My Microsoft Teams Tenant is partipating in closed preview program of NDI Integration of Skype TX with Microsoft Teams (announced at Microsoft BUILD Conference 2020). You need to enable it in the Teams Desktop Clients under "Permissions" and also allow it in Teams Meeting Policy (Teams Admin Center). NDI is disabled by default. Roll out starts Mid-August and ends Mid-September 2020. So you might need to wait or enable it in the meeting policies section of your Teams Admin center and also in the Teams Client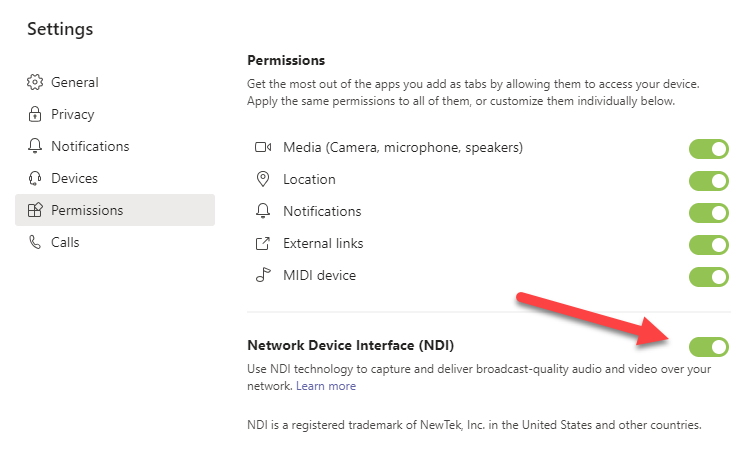 Microsoft is now updating NDI for Microsoft Teams so that authorized users can enable NDI® on a per meeting basis.
After using it and talking in Live Streams about it I want to share my favorite use cases (so far, please share yours in the comments) with you :
Add external guests using Skype to Teams Live Events

Everybody is already using Teams, so why adding Skype?
Well, not really. My preferred usage scenario is to live stream events not only with out-of-the-box streaming capabilities of Microsoft Teams, I use 3rd party tools a lot to influence the look and feel and overlay of the stream. Skype can be used easily now, it integrates well – if you use Skype Consumer Preview (not mobile) and enable NDI in advanced settings. Video Quality can be significantly higher than in a Teams meeting. Find more about Skype TX, Studio-grade hardware solutions from Microsoft for Professionals here.

Do you have issues with sizing of Skype in OBS? Check out this fix.


Side note: I also want to test how to add a Zoom Call into a M365 Live Event but current integration has expired end of May, so need to wait for NDI support which is part of Zoom`s roadmap.

Use OBS as 3rd party tool to stream Live Events

As mentioned above, I am not really satisfied that I can`t change look and feel of my stream when using default Microsoft Teams Live Events. So my preferred choice is for internal Corporate Streaming purpose: OBS Studio and stream to Yammer or to Stream. It offers me lots of possibilities in fine tuning video and audio by adding filters and effects (like moving and rotating video, adding noise reduction, increase bass+trebles and delimiter audio filters to prevent distortions)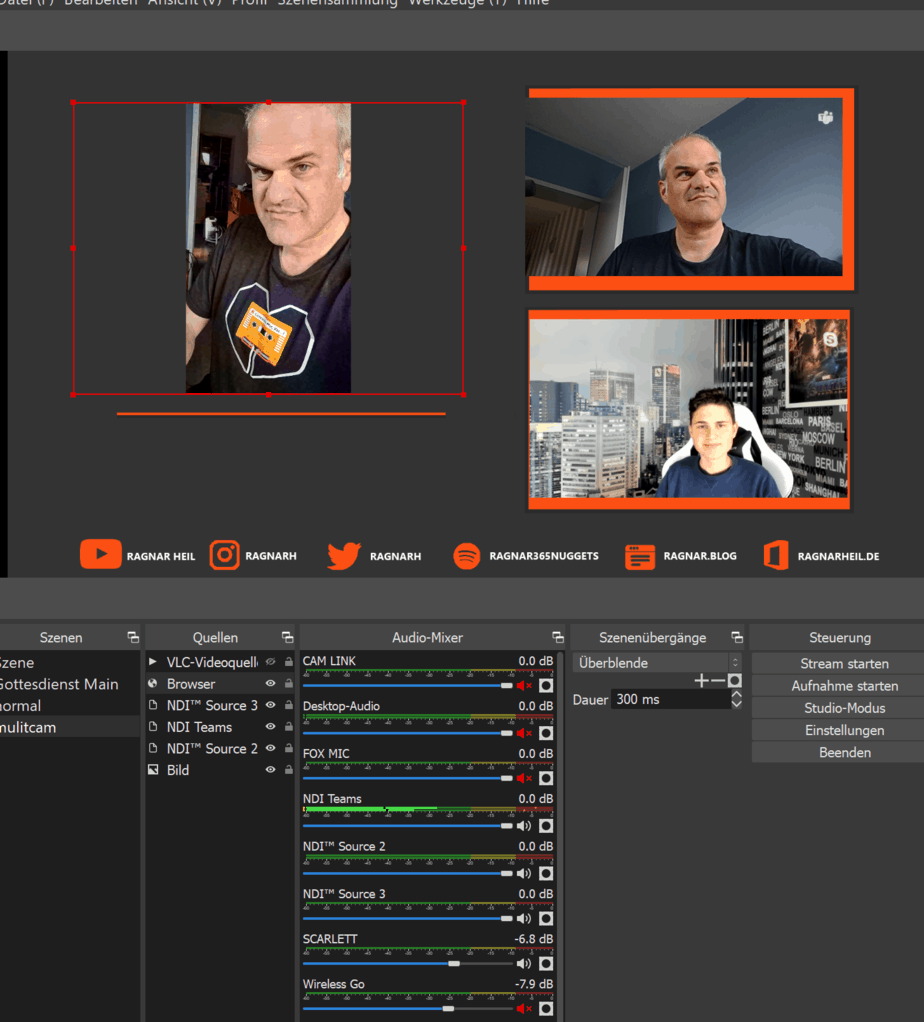 Getting different video and audio channels for saving and post production

Especially when using OBS I can do more than just stream live on air, I can save my video with many configuration options and edit video and audio in post-processing. Easy to create a podcast based on the video material in higher quality than just using MP4 from Teams Meeting and convert to MP3.
Separating NDI Streams depending on your mode and activity
You are going to get for each invididual meeting participant and user, incoming audio for a meeting is mixed together and will be the same for all individual user streams.
"Large gallery" and "Together mode" modes will have their own NDI stream available.
incoming screen sharing will be available as an NDI stream.
New stream will be generated which automatically switches to whoever is actively speaking
Sending slides and Audio / Video clips to Streaming PC

I like OBS but this friend is CPU hungry. So you might consider – if people can help you when streaming – to add a dedicated streaming PC to your setup. Then you can use the presenter Laptop/PC/Mac to send slides via NDI to this PC, same for Audio and Video clips you prepared earlier. You remember VLC Player? It can be used to stream these clips and slides inside your LAN. Just choose VLC in OBS as a source but you need to download NDI Tools as well which adds a VLC NDI Plugin
Adding IP NDI streaming cam

Haven`t purchased one, cams like PTZOptics or Newtec – with in-build NDI support – usually start at 1000 EUR. I am currently fine with my setting: Jabra Panacast (now Microsoft Teams certified!) and Sony Alpha 6400.
Adding wireless camera like iPhone or Android for free

This is crazy easy and free to implement: Just use OBS.Ninja which generates a QR code and URL. Then your mobile can be added to your OBS stream (Source: Browser, just add OBS.Ninja custom URL). Group Chats or remote screensharing is also very helpful.
(It is not using NDI technology but it was too good not share)


Adding more wireless (Smartphone or Tablet) Cameras using official NDI HX App by NewTek
here I have described the features, price and value for the official NDI HX NewTek App for Android and iOS iPhones/iPads
Stream your Microsoft Teams Live Event from your mobile
Check out Darrell Webster`s Video for further explantions, the video is excellent and use case is self explaining
Monitor audio inside your LAN

You want to increase audio quality of all sources before sending it our for streaming? Use these NDI capabilities to edit audio in an additional steps. Quality Assurance is key. In our church live streams (weekly) we monitor audio with a headphone before sending it to OBS (Mixer sound) and also control it by watching and listening to live stream. Lot of changes are needed within 60 minutes church service to adjust different voice volumes when using microphones for singing and lecturing.
Additional virtual audio cables are also needed if you want to integrate Zoom conferences into your stream.
Use NDI Tools as your primary camera in your Microsoft Teams Meetings
Run Newtek NDI Virtual Input and right click on it in your tray and set it's output to your computer name.
Next steps
Check out new documentation by Microsoft here and here to turn on NDI using PowerShell
Let`s go and stream more! Which streaming activities do you plan for next weeks? Which experiences have you made with NDI? More use cases which I haven`t mentioned? Please share in the comments below or at Twitter
Further readings: