Introduction to Blucalm UC Workstation
The world of remote work has become more prominent than ever before. Companies are now focusing on ensuring that employees can work remotely with ease and efficiency. One of the most vital aspects of remote work is having the right tools – especially in very noisy environments which cannot be controlled easily by yourself. That's where Blucalm UC Workstation comes in. Whether you're working from home, in a coworking space, or anywhere else, this workstation is designed to reduce background noise and also echo with its AI Mic Noise Canceling Adapter, allowing for clearer communication during calls. Hopefully it also helps to focus better without being disturbed by ambient noise. Your microphone gets muted automatically when you stop speaking, it unmutes instantly as you start speaking. 
Reducing Background Noise
This AI Mic Noise Cancelling Technology is a powerful office headset with a microphone that has been designed to pick up maximum voice and accurately deliver all sounds. Utilizing advanced digital signal processing (DSP) technology, our device has optimized the speaker sound and microphone voice in order to reduce the crackling of the voice or other interferences when speaking. The microphone array structure also allows for an industry-leading active noise reduction algorithm in order to shield 96% of background noises like keyboard sounds, dog barking, music noises, etc.
Furthermore, this product is plug & play compatible with Laptop PC Windows 10/11 and macOS. It is also widely used with Microsoft Teams, Zoom, Skype, Google Hangouts, FaceTime and other leading conference platforms without needing any professional software or sound card installed. Additionally, it has an added Voice Activity Detector technology, so the microphone will mute itself automatically when one stops speaking and unmute itself immediately upon speaking. Our dedicated customer service supports a 12-month worry-free warranty for your purchase!
According to AENC, the built-in self-developed chip could actively block 96% of background noise. How does it work?
Microphone array structure:
 Blucalm adopts a microphone array structure, which consists of multiple microphones working together to capture sound. This structure helps in identifying the direction of the sound source and isolating the user's voice from background noise
Speech Separation Noise Cancelling Technology
Quality entry-or mid level headsets can already eliminated static background noises like blender, keyboards and music well. In hybrid environments, the biggest challenge is the elimination of multi human voice in backgrounds. AENC VOICE has integrated over 20 acoustic patents over the last 20 years.
AI noise reduction algorithm:
The AI algorithm is built into the device and has been trained through in-depth network learning. This allows the algorithm to identify and differentiate between the user's voice and various background noises. The AI algorithm effectively reduces over 63 million dynamic noises in the microphone, shielding the listener from hearing background noise. This results in clearer communication and improved voice quality during calls
Test Cases / Audio & Video Samples:
Keyboard Typing
Dog Barking
Mowing the lawn
Blender / Grinder
Traffic 
Multi human voices
Playing loud music
People talking in the background
I was very impressed when using Bluecalm UC Workstation connected with Poly Blackwire 3220 Headset in a rock-concert environment (yes, I love to test my devices in all kinds of crazy surroundings) and the voice quality was still clear and easy to understand.
Connectivity
Blucalm's AI noise-canceling mic adapter is compatible with many headsets from HP Poly, EPOS, Jabra, and other major premium brands. It is designed to work seamlessly with Microsoft Teams, Zoom, Skype, Google Hangouts, FaceTime, WebEx, GoToMeeting, and other leading conferencing platforms
Just connect the headset with its USB-A cable to the UC Workstation, it works plug and play without the need of installing software or drivers.
Configuration
Blucalm UC Workstation offers buttons to add light, mute audio, and enable/disable background noise reduction.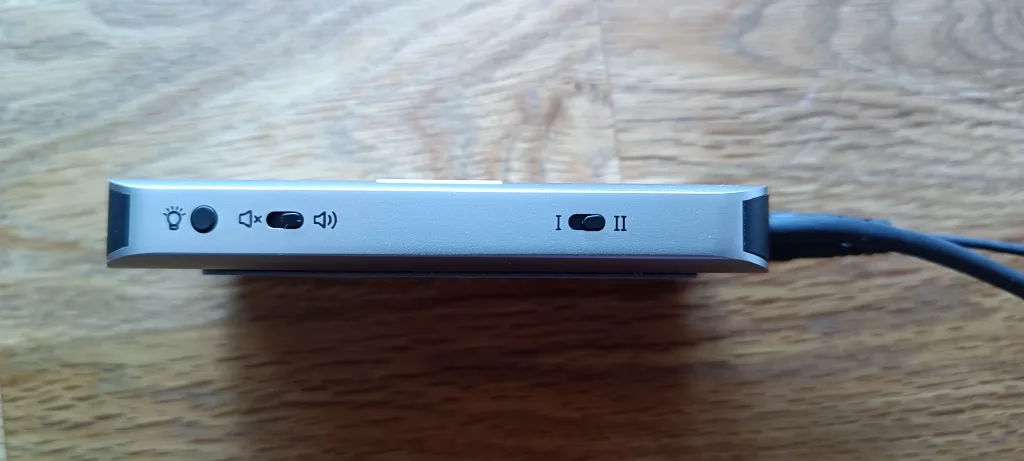 Busy Light
A Busy Light is a device that provides a visual indication of a person's presence or availability during a call or meeting. Here are some extra values of Busy Light in calls:
Improved Communication: Busy Lights can help improve communication by providing a clear indication of a person's availability. This can help reduce interruptions and misunderstandings during calls or meetings.
Increased Productivity: Busy Lights can help increase productivity by allowing people to focus on their work without being interrupted by unnecessary calls or messages. This can help reduce distractions and improve overall efficiency.
Reduced Stress: Busy Lights can help reduce stress by providing a clear indication of a person's availability. This can help reduce anxiety and frustration caused by missed calls or messages.
Integration with Communication Platforms: Many Busy Lights can integrate with popular communication platforms, such as Microsoft Teams, Google Meet, Webex, RingCentral and Zoom
Ease of Use: Busy Lights are generally easy to use and require minimal setup. Many models simply plug into a USB port and are ready to use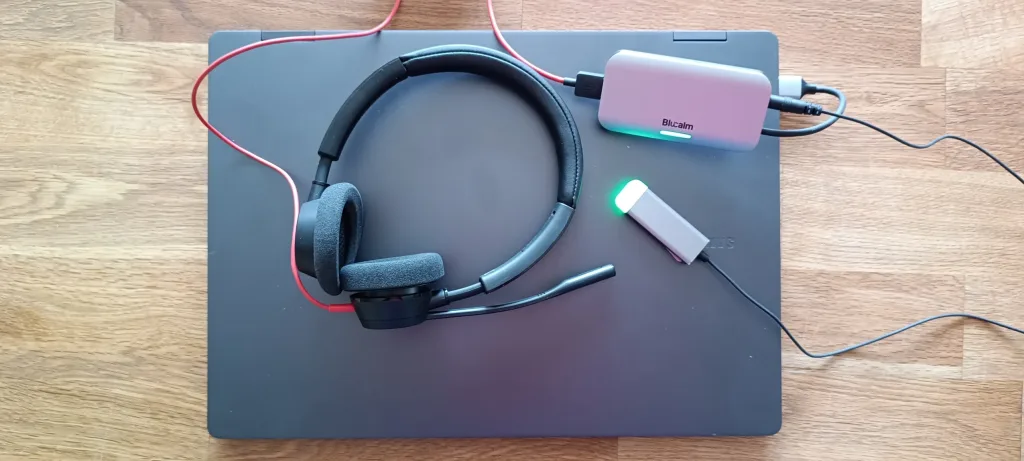 My Package includes
1 AI mic noise-canceling adapter with USB-A (Blucalm UC Workstation)
1 Busy Light with 3.5 mm Cable with magnetic patches
Poly Blackwire 3320 Headset
USB-A cable for future updates
Gift Box
My Verdict of Blucalm UC Workstation
In conclusion, Blucalm UC Workstation is an excellent Headphone accessory and adapter that is designed to promote productivity, collaboration, and communication in noisy and very busy environments. It can shine where multi human voices are talking in the background. That is much more difficult than just eliminating static noises. It is an essential consideration for companies that put their employees' comfort and well-being first. Plug and Play (no drivers needed) and ease of use is essential to increase acceptance of Hybrid Work.