I have reviewed many True Wireless In-Ear Buds over the years and also Bone Conduction Headphones from Shokz like OpenRun Pro, OpenComm and OpenSwim. Now Shokz is filling their own gap with True Wireless Ear Buds where left and right is not connected behind your head. This innovation is not the only aspect for Shokz, they are also introducing DirectPitch instead of Bone Conducting Technology. Let`s have a closer look which extra values are designed and most important: delivered. I am using OpenFit since 1 week and have published a video already:
Check out Amazon Prime Days Offers for Shokz Headphones today (last day)
DirectPitch vs Bone Conduction Technology
DirectPitch™ technology is a new audio experience made for OpenFit that allows for premium audio quality that perfectly balances bold highs, clear mids, and deep lows. Earbuds use what the Shokz calls "air conduction" technology, which is a tiny, very directional speaker that provides sound on par with traditional headphones but without sealing up your ears. The main result of this technology is way better sound quality, and the OpenFit are the best-sounding, most comfortable open-ear headphones tested, with everything you expect from true wireless headphones in a lightweight package that doesn't block out the world around you. The earbuds also feature Shokz OpenBass, Shokz's proprietary low-frequency enhancement algorithm, to carry low-frequency vibrations directly toward your ear without covering it. Shokz new DirectPitch technology is described as"reverse sound waves" (Shokz) to optimize the distance and angle between the sound. Another impressive feature of DirectPitch technology is that it minimizes sound leakage so that your music remains enjoyable even at higher volumes without anyone in the vicinity hearing it. Even in noisy environments, these earphones are able to provide a satisfactory listening experience that will keep you coming back for more. Just tested it today in a 10 hour train ride (with 5 hours delay)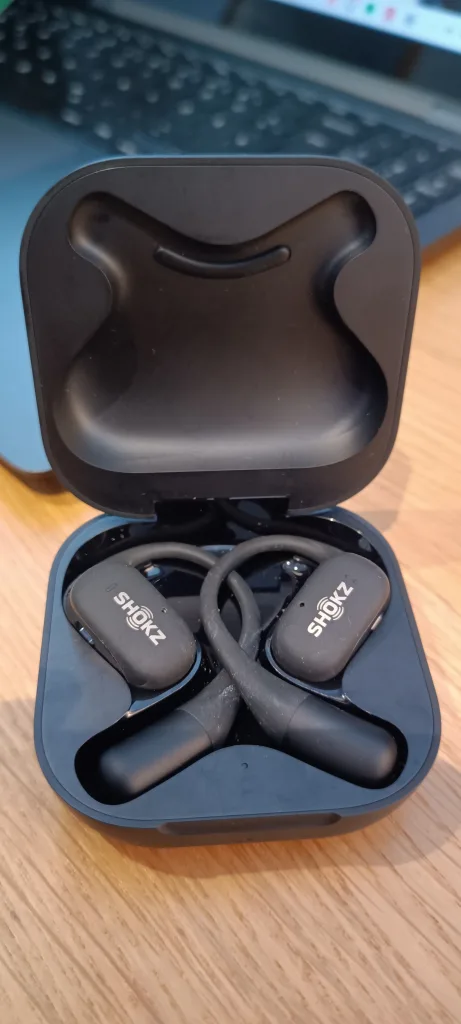 how long does the battery last on the Shokz OpenFit?
The battery life of the Shokz OpenFit earbuds is up to 7 hours of continuous listening at 50% volume. The charging case provides an additional 21 hours of battery life, bringing the total listening time to up to 28 hours. The earbuds also have fast-charging capabilities, with just 5 minutes of charging providing an extra hour of listening time. Shokz OpenFit earbuds take about an hour to fully charge.
Are they water resistant?
With IPX54 OpenFit are protected against dust and water splashes
Can the Shokz OpenFit earbuds be charged wirelessly?
Shokz OpenFit earbuds are not able to charge wirelessly. The earbuds are charged using a supplied USB cable that connects to the charging case. The charging case is not waterproof, so it is important to wipe the earbuds before stowing them to keep everything in good working order.
is there a way to check the battery level on the Shokz OpenFit case?
Yes, there is a way to check the battery level on the Shokz OpenFit case. The earbud state indicator is located between the two earbuds in the charging case, informing the state of charge of the earbuds. The indicator shows the following states:
– High battery level: when the earbuds are fully charged.
– Medium battery level: when the earbuds have between 50% and 80% charge.
– Low battery level: when the earbuds have less than 50% charge.
Bluetooth Connectivity
OpenFit support Bluetooth 5.2 and pairing was easy and connection was stable on my tested devices (Desktop PC, Samsung Galaxy Laptop, Android Phone, Samsung Galaxy Tablet). Unfortuntately they are not be able to connect to multiple devices simultaneously, you always need to disconnect when switching devices.
Comfort and Haptics
The Shokz OpenFit headphones boast not only a modern and stylish design but also an exceptional level of comfort. The flexible over-ear hooks provide a secure fit, and the soft silicone material feel smooth against the skin. They sit securely outside the ear canal, with the soft plastic band wrapping over and behind the ear lobe. This makes them very secure as well. I wore them running, and they don't budge. This make them perfect when engaging in strenuous activities or listening to music for long periods of time, as I never had to worry about them falling off.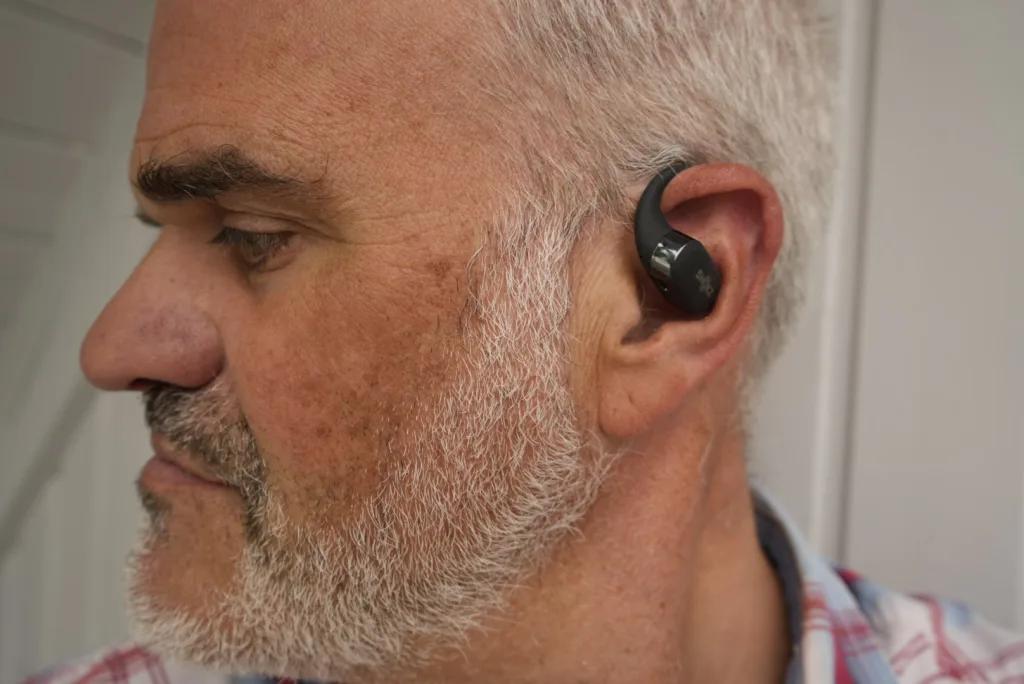 Shokz App: How useful is it?
Actually I only espected a possibilty to update firmware for OpenFit, so I was pleasantly suprised to see EQ / Equalizer capabilities and custom controls for both ears in the mobile App for Android and iOS.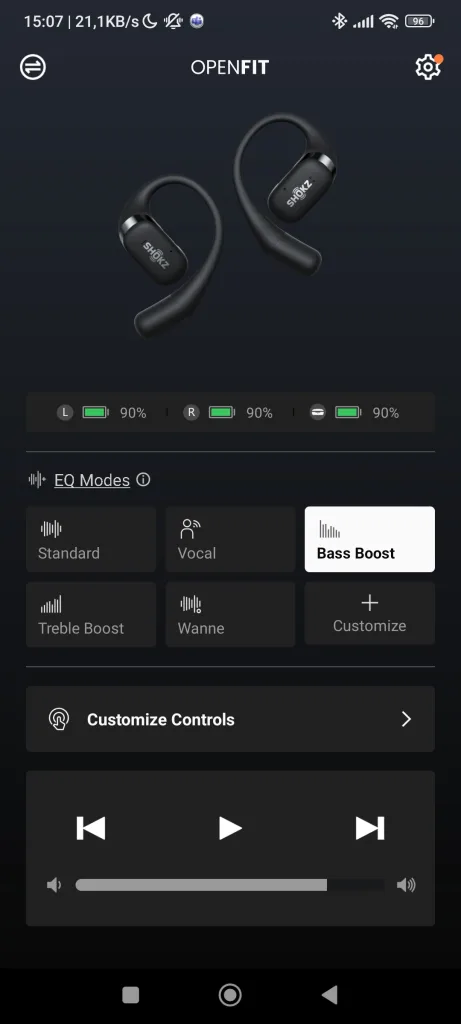 I have configured the controls for double tap and hold, can jump between titles, pause/play or also control volume.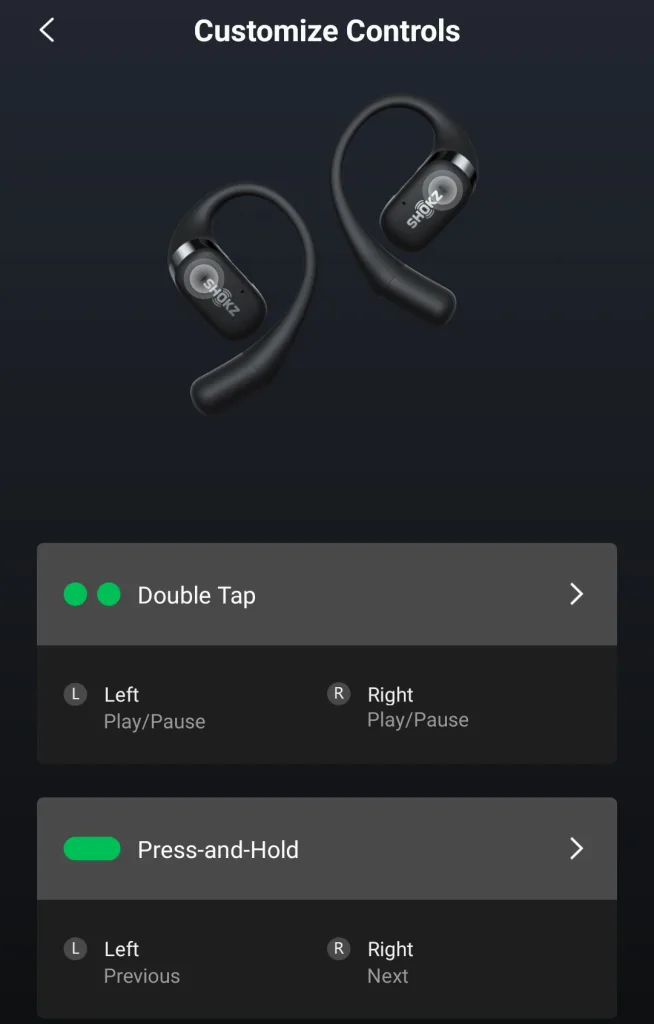 My verdict
Shokz OpenFit are a type of open-ear earbuds that allow you to hear ambient noise while still enjoying your music. The earbuds are very comfortable to wear. They use "air conduction" technology to provide sound on par with traditional headphones without sealing up your ears. The sound quality is surprisingly good, with punchy performance. The earbuds are reliable and have good battery life with 28 hours. They are ideal for outdoor activities where you need to stay aware of your surroundings. They do not have active noise cancelation. If you don't miss ANC and special buttons for conferences like accept/decline/resume or mute, then OpenFit can be an excellent choice for you – especially if you want to listen to music while staying aware of your surroundings. They are available for purchase on Shokz.com and Amazon in beige or black for an affordable $179.95 USD.
Check out Amazon Prime Days Offers for Shokz Headphones today