August 27th Robert Quandt leaked an image how Jabra Elite 5 True Wireless In-Ear Buds might look like. People in Blogpost and Social Media were speculating if this might be a new flagship TWD In-Ear Headset, a successor of Jabra Elite 4 or what might be different to Elite 3 or Elite 7 Pro? Will IP Level be sufficient to do sports and can I skip purchasing the Active Series like Elite 7 Active? So main question is: how does Jabra Elite 5 fit into the existing line-up and portfolio of existing Bluetooth Earbuds?
What\'s inside the box?
Earbud
3 sets of Silicone EarGels™ (small, medium, large)
charging case
USB-C to USB-A cable,
warranty and warning leaflet
setup one pager guide
Battery Time
I did not count the battery time, so I am sharing Jabra`s numbers:
ANC on: 7 hours in earbuds and 28 hours with case
ANC off: 9 hours in earbuds and 36 hours in case
Wireless charging is supported (Qi certification) and in 10 minutes you can charge one hour of playback.
Price
Currently, you can get Elite 5 for 129 US$ at Jabra.com or at Amazon
Microphone Quality
Check my Videos below but if you want just one short audio sample, here you are:
6 microphones perform very well and I like the sound of the mics. Background is not really eliminated and filtered out but voice was still clear to hear when I had my coffee grinder running in the background (check my Video)
Jabra Elite 5 vs Jabra Elite 7 vs Jabra Elite 85
Let\'s compare microphone quality in a silent environment!
Is Mono Microphone Mode supported?
Yes, you can use one single ear-bud for calls and listening. The other one can charge in the case.
Connect easy to Spotify
Spotify Tap is a very neat and quick way to connect to resume your Spotify songs or Podcasts by touching left in-ear buds control. Works also fine when your mobile`s screen is dark and phone and tablet are locked-
IP Rating and Durability
With a 2 year waranty you get IP55 rating (dust and water resistant, don\'t worry if you run into a rain)
Bluetooth
Bluetooth Standard 5.2 is supported and it covers a distance up to 10m/33ft.
Pairing is easy and reliable and supports multi points and devices, I have tested it with my Macbook Pro, Samsung Galaxy S22 at same time. You can pair up to 6 Bluetooth devices.
Google Fast Pair and Microsoft Swift Pair are also supported
Voice Assistants
Google Assistant, Apple Siri and Amazon Alexa are supported
Controlling Calls and Music
Smartphone Integration switches between ANC, Hearthrough and Off Mode
with one swipe gesture on your Phone you can switch between ANC, Hearthrough and Off Mode: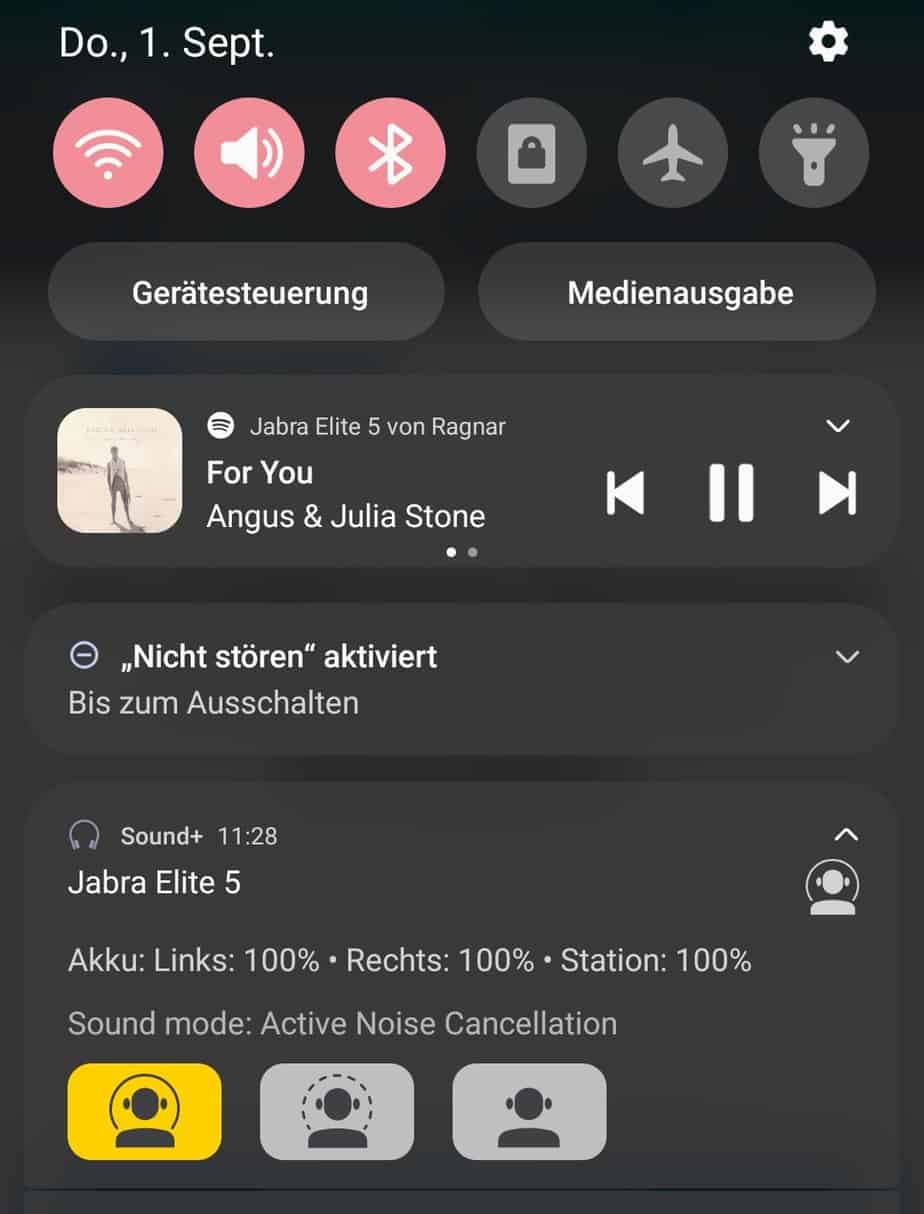 How can I mute myself in a Microsoft Teams Meeting or Call?
There are 2 Options available:
one single push on the right ear bud
take off one (left or right) or both ear buds.
Microsoft Teams does not show that you are muted because Elite 5 are not Microsoft Teams certified 
My Verdict
Finally Jabra offers In Ear Buds which support Bluetooth 5.2, Qualcomm-Codec aptX (very relevant for Android), IP 55 and hybrid ANC – powered by 2 internal and 4 external microphones. That\'s why I am now recommending Jabra Elite 5 and not longer Elite 3 (no ANC) or the older and very popular Elite 75t or 85t. Elite 7 Pro is obviously older than Elite 5 and contains bone-conducting technology which never impressed me especially in windy conditions where it should out-perform (and I had wind in my Portugal Algarve video review). FitControl and MySound Hear Profile of Elite 7 Pro are not part of Elite 5. You can decide if you miss it, I could live without it. Elite 5 are very comfortable and I just love their form factor (same for Elite 7 Pro): so small and light, I nearly don\'t notice them. 6mm speakers deliver a powerful and rich sound and I use the EQ of Jabra Sound+ App for fine tuning. Thank you, Jabra, for producing a smaller cases than Elite 7 Pro which snaps beautifully thanks to their magnets.

TikTok (1,5 minute)
YouTube Shorts (1 minute)
Discussions Threads – join us!