Next to their existing Speakerphones Sync 20, 40 and 60 Poly has launched today a dedicated one for Home Office Work: Sync 10.
It wants to turn a home office room into a conference room with its certification for Microsoft Teams and Zoom, compatible with many other video conference system providers. You can hear high-quality music with and transfer voice with its two-microphone array which should reduce surrounding noise according to Poly. I am going to add a voice and microphone sample when I have received Sync 10.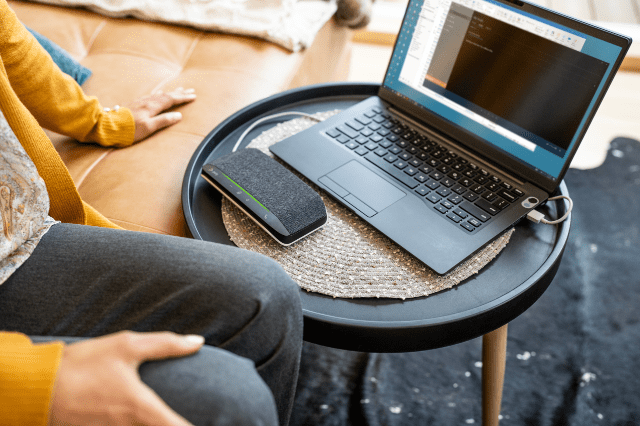 What is different from the previous entry model Sync 20?
2 microphones instead of 3 mics
no Bluetooth connection, only USB-A and USB-C (adapter)
Microphone pickup range up to 5 ft/1.5m instead of 7 ft and 2m
ideal for room sizes up to 10 ft x 10 ft (3m x 3m) instead of 4 m x 4 m
Microphone Frequency Response of 100 Hz to .8 kHz instead of 100 Hz to 6.7 kHz
Weight of 280g / 9.9 oz instead of 360 g / 12.7 oz
Loudspeakers 1 x 40 mm high-performance music speaker instead of 1 x 50 mm
Similar features to Sync 20?
IP64 dust- and water-resistant
USB Dongle included (BT 700)
Bag / Case
nearly same size
Poly Lens Desktop Support
Touch-sensitive user controls like call answer/end, mute and volume up/down
Windows and Mac Support
Full duplex support
Bass reflect with dual passive radiators
My thoughts
I can't share my wholistic impressions here because I haven't tested it yet, but it is an interesting move to reduce the price by decreasing the microphone array from 3 to 2 and removing the Bluetooth connection. On the other hand, the loudspeaker size has increased. Not sure how the target audience is going to react: Are they attracted by the price and maybe better-sounding music, or do they really miss Bluetooth and better microphone quality (needs to be tested if Sync 20 sounds different from Sync 10)? It could also be that there is a special demand from verticals like military who are not allowed to use Bluetooth devices.
Resources