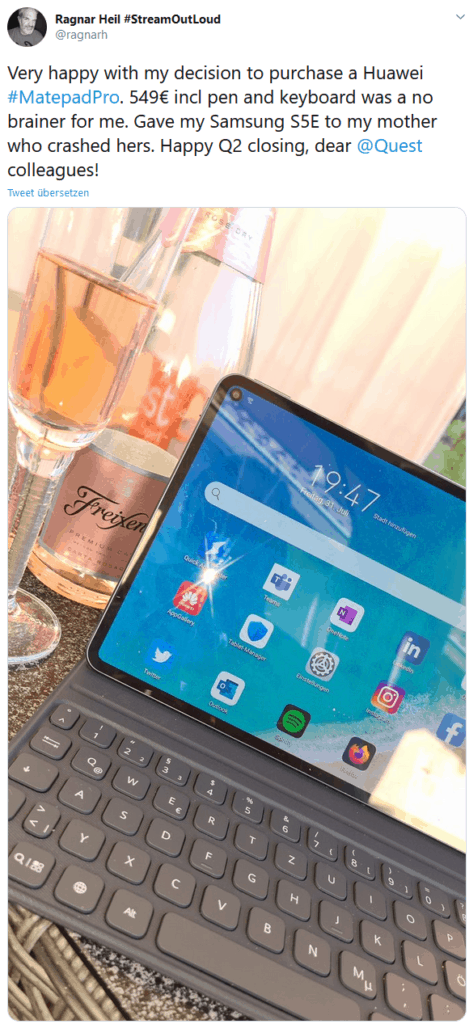 As you can see from my Tweet 10 days ago, I was happy with my new Huawei MatePad Pro and couldn`t think of returning it – as I did today.
I purchased it for 549 EUR incl a very excellent pen and keyboard, delivery from Amsterdam to my house took only day and installation went smooth. I was aware from the beginning that Google Play Store and Google Services were not installed by default. My preferred Office 365 Apps were running perfect and are available in Huawei Gallery, their own App Store, like:
Outlook
Teams
Yammer
OneNote
Stream
To Do
OneDrive
Word, Excel, PowerPoint
BUT:
I couldn`t get few very important Apps running where I have a paid subscriptions like Wirtschaftswoche (weekly economy magazine) or Spotify. I spent few hours to find out what went wrong. I called customer support twice, stopped these apps, deleted data and cache and installed them from other App Stores like APKPure, Aurora or Aptoide. No progress.
APKs were not updated automatically or shown as to be updated manually in these alternative stores. You need to check every single app on your tablet which is not deployed from Huawei Gallery and download new APKs DAILY (!). That`s a big waste of time for me
Yes, I tried to sideload Google Playstore and got it installed but never running, it always crashed. I gave up after few hours. Nevertheless you might want to check this Youtube Tutorial . I have the impression that it is getting more and more difficult every day. Today I couldn`t get the lzplay app working which is needed. Went fine last week.
You can download YouTube in non-Google Playstores, yes. But I couldn`t sign in and see my video subsciptions
So need to say Goodbye to this excellent hardware and order something new: Samsung Tab S7+? iPad Pro?