Big Surprises from Microsoft BING + Edge and OpenAI Chat GPT Launch Event
Yesterday, February 7th 2023, Microsoft has invited spontaneously to a press conference with OpenAI CEO  Sam Altmann to get informed about latest innovations with BING Search Engine and Edge Browser
hello from redmond! excited for the event tomorrow pic.twitter.com/b7TUr0ti42

— Sam Altman (@sama) February 6, 2023
My Journey with OpenAI
Personally, I am very surprised about the innovation pace that Microsoft shows in this race for leading AI platforms. I am currently testing Azure Cognitive Language Services like Document Summarization and Conversation Summarization, as well as new Microsoft Teams Premium Intelligent Meeting Recap plus Viva Sales Meeting Summarization capabilities. Haven't seen this kind of Hype and speed in decades. As a Member of the Viva Explores Family, OpenAI is going to be my new key topic as an underlying layer of the M365 Suite
I am using Chat GPT since Mid-December 2022 went it was launched every day and contribute to the very active German-speaking Chat GPT Community on Discord, hosted by Artur Kosch
New AI Model revealed – helps to support challenges in daily life
After being informed about the February 7th event, I expected to see an OpenAI Chat GPT3 integration with BING. One of my biggest surprises is that there is going to be a new OpenAI's 'next-generation' AI model behind Microsoft's new search engine and Edge web browser, giving them exclusive access to the successor of OpenAI's popular ChatGPT large language model. This new AI is unnamed for now, but it has been described as taking key learnings and advancements from ChatGPT and GPT-3.5, making it even faster, more accurate and more capable than its predecessors. It has also been customized specifically for search, which was repeated by multiple executives at the Microsoft event.
Although the exact capabilities of this new AI are still unknown, it is clear that OpenAI's next-generation model will be a major factor in powering Microsoft's revamped Bing search engine and Edge web browser. With its increased speed, accuracy and capability, this new AI could revolutionize how people use search engines to find information online. It will be interesting to see what other applications this powerful technology can be used for in the future.
BING does not only focus on generating complete and automatically written homework, video scripts or Blog posts like many Chat GPT3 users appreciated. It is also designed to help in everyday life's activities like asking questions as if you were talking to a person. Here's an example: "I'm planning a trip with my family in April. What beaches are within a 3-hour flight from Frankfurt International?" Then follow up with something like, "What should we do when we get there?"
BING is taking in cues like your geolocation your previous history and is looking to improve itself over time. There's also a new feedback box on the top right of this dialog that allows you to tell being whether you like the results or not.
Engadget has published a video with own hands-on experiences where she wants to find out if an IKEA wardrobe fits into her car. That's a combination of different queries from a real-world scenario where OpenAI helps in daily life and not only for Content Creators like mentioned.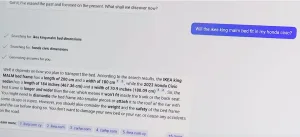 LinkedIn Integration
I also did not expect that they show how LinkedIn works together with OpenAI, helping to write postings with different tones (professional, casual, informative, enthusiastic, funny) and length as well as formats (ideas, post, email)

You don't need to be a Chat GPT3 Prompt Engineer to use New BING
I have seen demos of New BING with OpenAI where you don't need to be a "Prompt Engineer" to continue the conversation with the Bot Agent and get more complete results. It feels more like a conversation.
Knowledge Sources are transparent and up-to-date
You are complaining that Chat GPT3 only provides answers based on data until the end of 2021? BING can use much more sources and the latest news from various sources to deliver the best quality. In this case, Engadget asked BING to create a sightseeing trip for 5 days in London.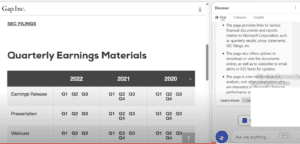 Summarize Financial Results and compare them with competitors
Engadget showed a demo where you open a Financial Results PDF directly in Edge Browser, asking BING to summarize it (in easier language) and compare the financial results with a competitor. Result is a table –  Wow!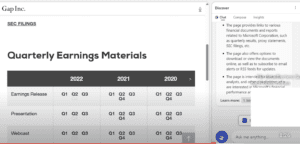 Battle of Browsers?
In the age of AI in leading search engines this week  – both Google and Microsoft –  made major announcements about integrating conversational AI into their products, Google just unveiled that its land of powered conversation engine will be called Bard. Both Bot engines are going to be embedded into their Browsers Edge and Google Chrome.
 Could Microsoft win even if it loses in the next chapter of AI Internet Search?
Please share your thoughts in the comments!
Join the Waiting List for new BING Search, powered by Open AI here http://bing.com/new