Here I have reviewed Plantronics Calisto 7200 Speaker Phone which is still in daily use on my desktop in my home office. A few weeks ago Poly has provided me a free test sample of new Calisto 5200 (Amazon Affiliate Link) to write an unpaid test about this new portable device for mobile and remote conference. It can help you to start audio conference from literally anywhere using a USB-C or 3,5mm Audio Cable. My Huawei Mate 20 Pro SmartPhone and Surface Book 2 are providing USB-C, so I am only using the 3,5mm cable for my iPad. You could also order a USB-A version.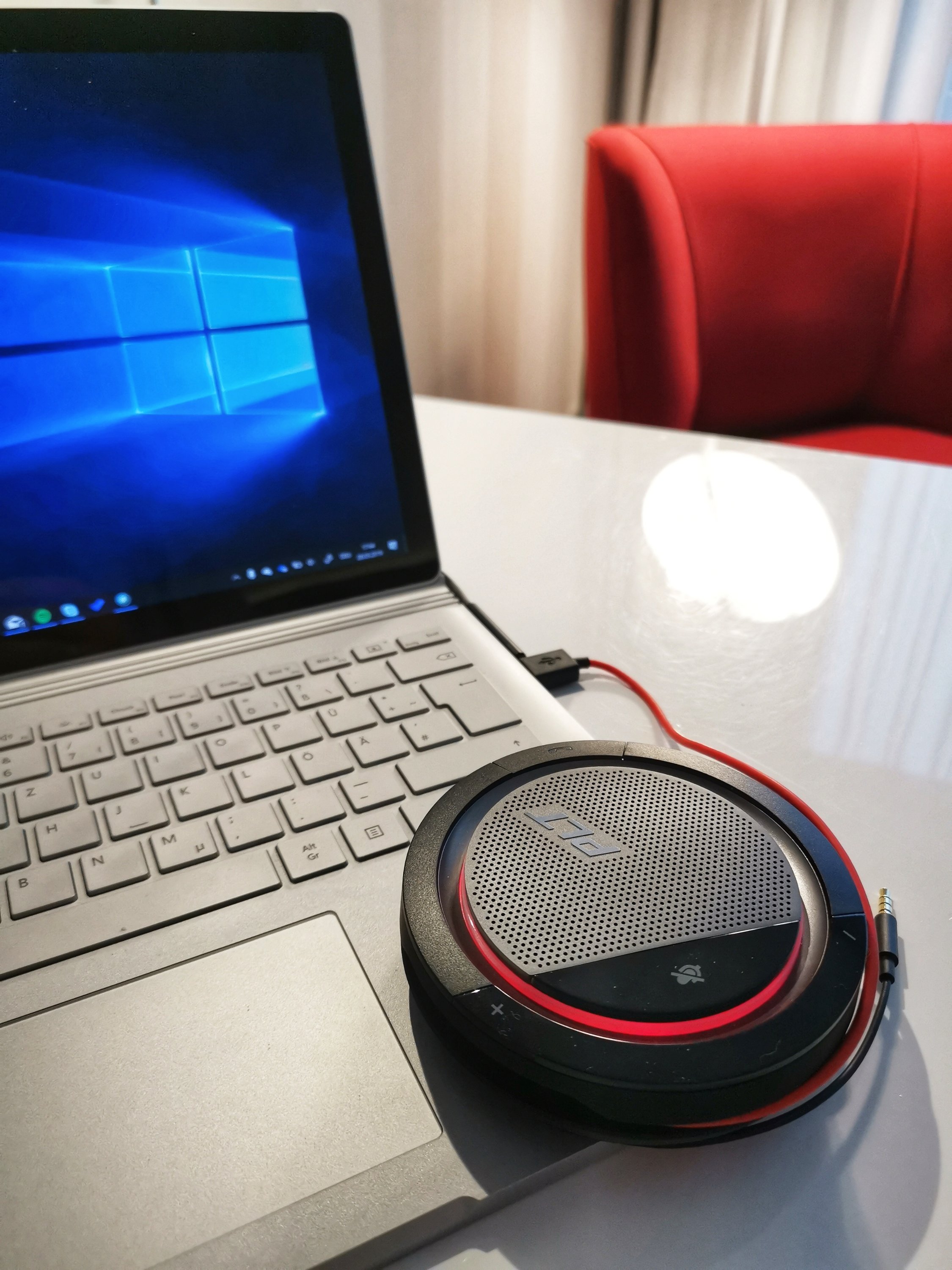 Official Technical Specifications
Talk Time Up to 30 hours
Battery capacity 1000 mAh Battery type Rechargeable, non-replaceable, lithium polymer
Microphone: Digital MEMS omni-directional microphone .frequency Response PC wideband up to 6.8 kHz, full duplex audio, echo cancellation Microphone sensitivity -26 dBFS/Pa Microphone voice pickup distance Group speakerphone (rated 3 ft/1 m and up to 10 ft/3 m)
Dimensions: 31.1 x 108.6 mm. Weight 214.5 g
Dynamic mute: Yes
Languages Configurable by Plantronics Hub software: 16
My impressions, use cases and voice test samples
Installation and Configuration was simple as it should be: just connect the cable to devices like PC, Tablet or SmartPhone. Later I have installed the Plantronics Hub App on my PC to check if Firmware is up to date and I have tweaked a few settings.
I have complained in my review of Calisto 7200 that cable is not perfect for mobile and traveling use cases and form factor is a bit bulky although I appreciate the very high quality of the chassis. This has been improved for Calisto 5200 and it`s brother 3200 (no 3,5mm cable offered). I could be happy with this form factor but unfortunately the USB-C plug is 2mm too short, so I always have to take my SmartPhone out of its case (which is not the case if I charge it with its USB-C cable).
Let me talk now about useful Call controls, what is provided here? Call answer/end, mute, volume up and down Voice alerts, battery high, battery medium, battery low, power on, power off, mute on, mute off, muted, volume maximum, volume minimum.
Dynamic alerts when talking to a muted conversation is helpful. Daily. Maybe you recognize yourself here.
I hope you find my voice samples useful which show the quality of the 360 degrees onni-directional microphone. You can hear my voice although I have left the room and spoke 5m away. On the other side I could hear my son talking on the phone in his room, door open, which I wouldn`t expect from Plantronics Digital Signal Processing (DSP), made for Active Noise Canceling.
Speaker Quality is fine for Meetings and Audio / Video Calls. I also use it to listen to podcasts, audio books and music. Judith Owens`s Cover of Police Song "Walking on the moon" sounds clear and bright with well balanced high trebles. Bass is not impressive at all but not important for me. In case you are considering to buy it ONLY for music, then you might find better loudspeakers for 149 US$, Plantronics official price tag.
Where do I benefits most of Calisto 5200? Very easy to say: just put it into your bag where you carry your PC or mobile and you are always ready for a high quality phone call – where you also want might to include others in the room or be just alone in your hotel room. I work a lot in my garden in summertime and like the easiness of connection, not many buttons here. My conference systems are Microsoft Teams and Webex. Plantronics seems to follow a "reduce to the max" design guide". Not having a bluetooth connectivity can a pro factor because my phone is already paired to many other devices, so I can just plug and play here. 30 hours of battery is life is impressive and definitely useful. Mute button is very large and easy to reach – don`t underestimate this small feature when working from home.