I have reviewed and tested many wireless Bluetooth Headsets in the past but never an on-ear Headphone with personalized sound profiles and experiences as promised by beyerdynamics with their reddot 2018 award winning Aventho Wireless (Amazon Affiliate)
Configuration and first hands-on experiences
Bluetooth Pairing with my iOS and Android Devices was easy and worked fine by pressing the power button for a few seconds. I have downloaded the special Aventho MIY App to experience what is so special about this headphone: it should be customized for your ears by measuring your hearing and upload your personal sound profile directly to the headphones. You either choose to enter year of birth and get recommended default sound settings or run through the individual test which takes about 6 minutes. You receive 6 sounds which start very quiet and low . Then you need to push a button on the mobile App at the certain time when you hear it for first time: 250 Hz, 500 Hz, 1 kHz, 2 kHz, 4 kHz und 8 kHz. I am not convinced that it can really improve the sound experience with healthy ears (yes, I got that feedback from the App), I see more value for older people which have concrete deficits in higher treble. I could hear differences to a standard profile but it could also be that volume is changed and I just enjoy a higher loudness. On my sons`s Samsung S7 Android Test went through smoothly, I had a few issues on my Huawei Mate 10: test ran for a long time, so I had to stop and reset the process. HiFi Forum Members are complaing that this App still has few issues to fix. The mobile App also tells you when your ears need a break because you listened to music for far too long.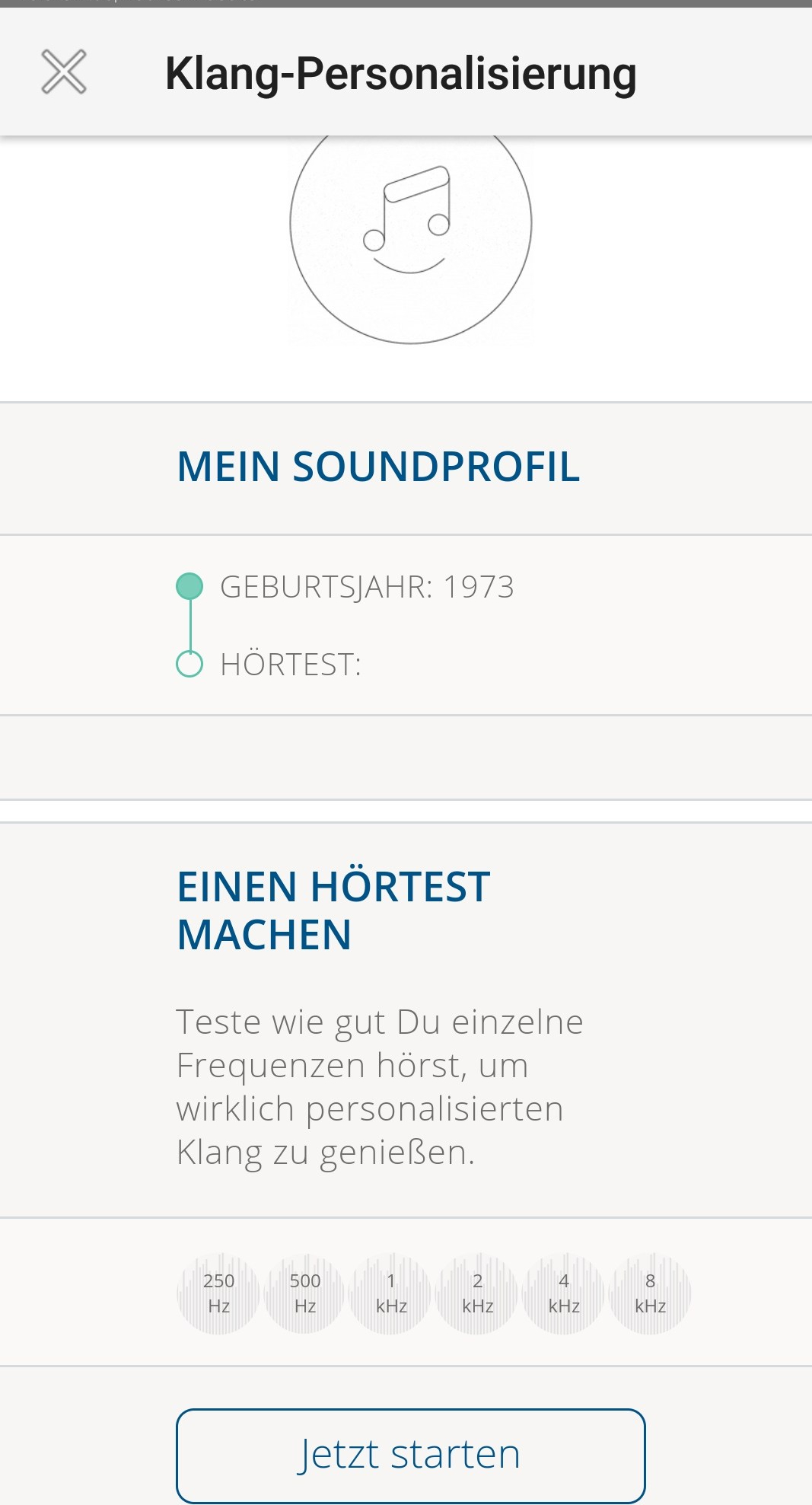 Technical Specifications
See Data Sheet / Tech Specs Aventho Wireless
Let me list main features here and add my comments:
• Dynamic Tesla high-end drivers
• Bluetooth Operating range up to 10 m: Very important for me because I might be connected with my laptop but want to move to Sofa or Hammock. I used lot of other Bluetooth devices which cant manage distances <i>&gt; 5</i> meters.
• <strong>Operation via touch pad</strong>: I use it to skip songs and change volume in both directions. Works very reliable and easy to use
• <strong>Battery runtime &gt; 30 hours</strong> which I can confirm. This offers lot of value, especially for long intercontinental flights where you use it for movies and music.
• <strong>Audio Codecs:</strong> Qualcomm® aptX&#x2122; and aptX&#x2122; HD, Advanced Audio Coding (AAC), Low Complexity Subband Codec (SBC)
• LED to display the operating status
• Voice prompted battery status
<h1>LooknFeel, haptic experience and Sound Quality</h1>
As mentioned Aventho Wireless are my first on-ear Headphones, I am usually using In-Ear Bluetooth Headsets like <a href="https://ragnarheil.wordpress.com/2018/02/03/one-week-with-jabra-evolve-75e-in-ear-bluetooth-business-headset-with-active-noise-canceling-skype-for-business-certified/">Jabra Evolve75e</a>, <a href="https://ragnarheil.wordpress.com/2017/06/24/review-4-weeks-with-wireless-inearbuds-jabra-elite-sport-headphones/">Elite Sport</a> or Over-Ears like <a href="https://en-de.sennheiser.com/mb-660">Sennheiser MB660</a> and <a href="https://ragnarheil.wordpress.com/2017/10/18/review-plantronics-stereo-bluetooth-headset-voyager-8200-uc-can-it-beat-it-the-lower-priced-backbeat-pro/">Plantronics Voyager 8200. </a> Now I am testing Aventho since 4 weeks and literally everyday so I have to state that I really like how comfortable they are. Never had a feeling of pressure on my ears or head and I would rather use Aventho when walking through the city than other very large Over-Ears. Pressure is still good enough that Headphones are not slipping away, so great for moving around and walking although I dont use them for running and workouts. Aventho is not offering ANC (Active Noise Canceling) but because of perfect seating comfort I enjoyed using them on a not too noisy plane. I am actually not wondering why reddot has given them in 2018 a leading Design Award, they are just beautiful and very stylish. Very. I like the combination of soft black leather and metal industrial style. Fashionistas, hear what I am saying!
Lets jump into my <a href="https://open.spotify.com/user/1121725008/playlist/45BxkBSCb39unFHK1xicBy?si=ahkofgmURUOlzw5RgTMd2w">Audiophile Spotify Playlist </a>and listen to a few songs!
My first impression is now confirmed 4 weeks later: treble and mid tones are very well balanced, I love the punchy bouncing bass and Aventho still sounds excellent on high volume, clean and clear. I have discovered new lovely details especially in the midrange. Its made for my most common scenarios: using my SmartPhone, playing Spotify Playlists (320kbit/s OggVorbis) and using Bluetooth. Aventho can also be used as DAC (Digital Analog Converter) with its USB-C Cable and can resolve up to 24 Bit 48 kHz. Thats especially interesting for me because my m-Audio Transit DAC is quite old and doesntt support Windows 10. I have the impression that USB-C connection sounds clearer than Bluetooth – and as very nice side effect the headphone is charged.
Summary
Aventho Wireless offers exellent sound experience, I enjoyed every single song I listened to, and it is very comfortable and looks extremely stylish. Battery time > 30 hours also convinced me. Price Tag is 449€ and I can image that listeners with certain deficits in their hearing behaviours and ears are going to benefit from the personalized App which creates a unique sound profile. Personally I don`t hear strong significant differences with the App. So you might consider this if you buy very price-sensitive. Ignoring the price, Aventho Wireless are the most beautiful and best sounding On-Ear Wireless Headphones I have tested so far.