If you scan the internet – especially DJI Forum and Reddit – and ask how well Samsung S22 Ultra and the brand-new DJI Osmo Mobile 6 Gimbal (I received mine yesterday after ordering at launch day), you get mixed responses: from \"works great\" to \"not supported\" to \"not working at all\".
Let\'s take a closer look into Use Cases to understand \"The Good, The Bad and The Ugly\" of this combination:
Official Support of Samsung S22 Ultra in DJI\'s List of supported Smartphone
not listed at all here:

I also looked at its smaller brother, Samsung Galaxy S22:
Official Support of Samsung S22 – not Ultra
Supported Cameras: Main camera
Zoom Ratio: 1x ~ 8x
Manual Mode: Not supported
Maximum Video Resolution: 1080p@30fps
Maximum Timelapse Resolution 4K@30fps
Maximum Slow Motion Resolution: 1080p@30fps
Dynamic Zoom: 4K@30fps
Mobile Phone Camera Control: Photo capture, Video recording
Official Support of Samsung Galaxy S21 Ultra

Hopefully DJI is going to support Samsung S22 Ultra soon because S21 Ultra is using 4k30 as max video resolution, also in timelapse and DynamicZoom. Also wide camera is supported.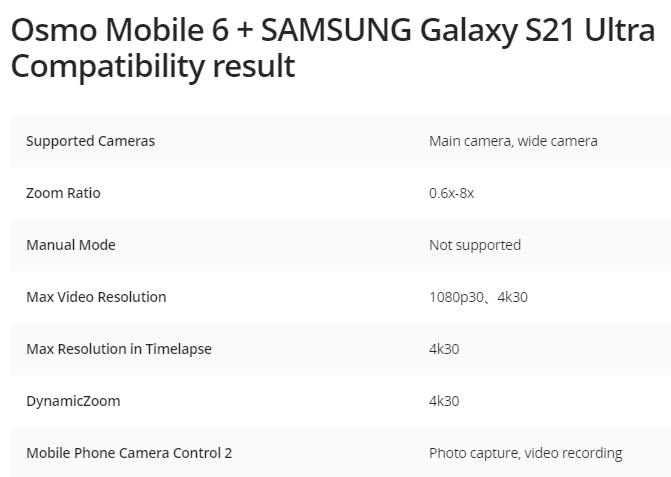 What works using Samsung S22 Ultra Camera App or 3rd Party Apps like Filmic, TikTok or Instagram?
Rotating the Gimbal between horizontal and vertical position
Joystick features like left, right, up and down
What does not work using Samsung S22 Ultra Camera App or 3rd Party Apps like Filmic, TikTok or Instagram?
Switching Gimbal Modes
Zoom in and out (using wheel)
Start and stop a recording
Focus (using wheel)
use trigger button to start and stop tracking or center the object
Experiences with DJI Mimo App
I haven\'t noticed any DJI Mimo App features which are NOT working with Samsung S22 Ultra. Face tracking works very well, Stories are helpful, DynamicZoom works as well as timelapse. Changes in settings like flash on/off are reflected to S22 Ultra.
Which Video Resolutions are supported?
Only 1080p is supported, not 4k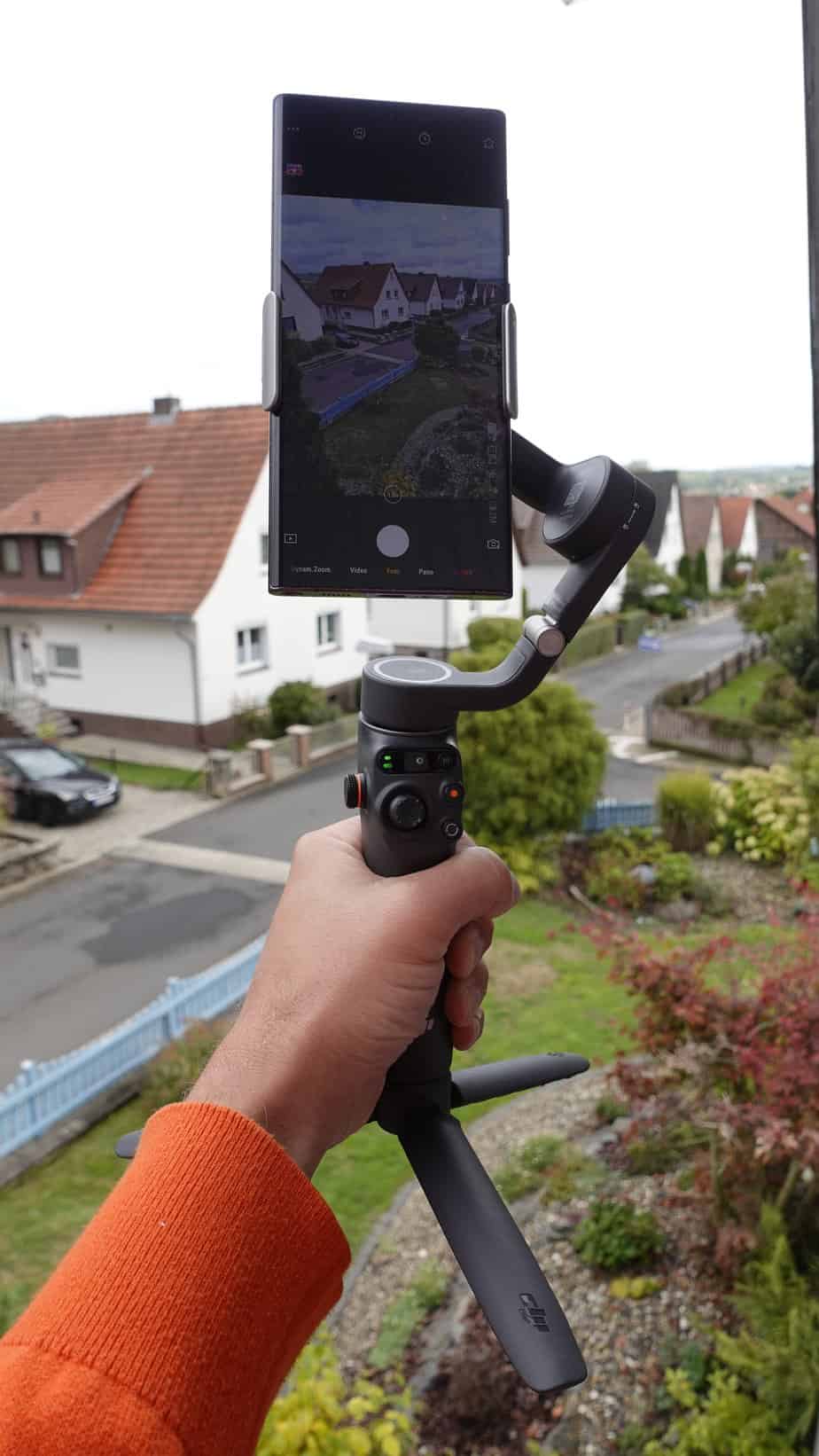 My verdict
It is not the right time to encourage Samsung Galaxy S22 Ultra Users NOT to purchase DJI Osmo 6 Mobile. I hope that this excellent smartphone is going to be supported soon: with 4k30 and zoom in/out and recording features using native Video App which I mostly use. When I am working with external microphones, I prefer Filmic Pro which also does not really work with DJI OM 6. But if you are convinced about the DJI Mimo App – which works fine on my S22 compared to other users on the internet – you get a lot of value from DJI OM6 and won\'t find a better Gimbal for Mobile Phones.
Resources / Read more here: