Office 365 is now available for all organizations from Switzerland and Liechtenstein from the Swiss cloud datacenter region
First customers of Office 365 from the Swiss datacenter regions include Alpiq, Wincasa, WWF Switzerland and the City of Zug according to Microsoft`s official blogpost. In addition to UBS, Swiss Re and die Mobiliar, Zurich Insurance Group is also using Azure services from the Swiss regions. Azure in Swiss Cloud was already announced August 28th 2019
Not all available services for Swiss customers are physically stored in Switzerland: current main focus is on
Exchange Online (incl. Exchange Online Protection) with Email (+Attachments) and Calendar Entries
OneDrive for Business (uploaded files)
SharePoint (uploaded files and site content)
Microsoft Teams (Chat)
Office Online & Mobile Apps
MyAnalytics
OneNote
Thank you, Primo Amrein, for your excellent and hard work (also providing clarity in the launch phase)!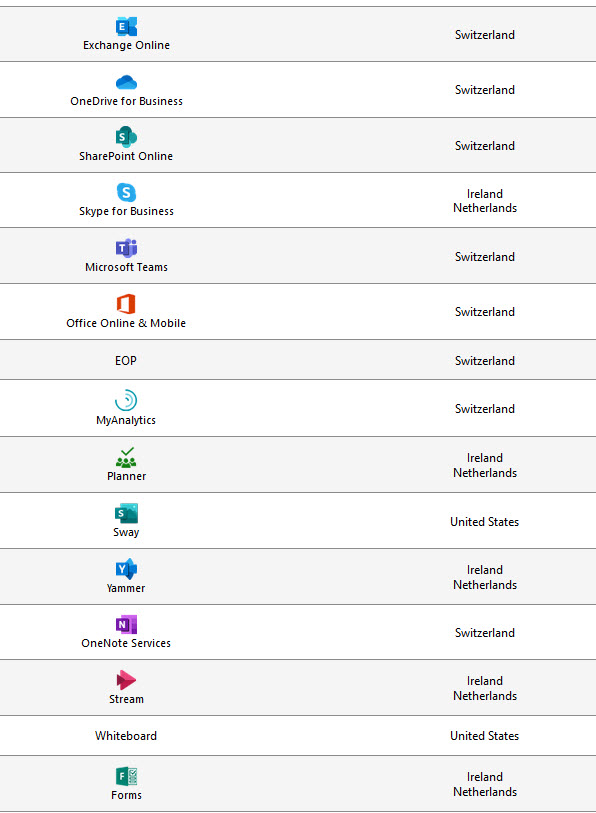 Existing Office 365 tenants of customers based in Switzerland and Liechtenstein will be moved to the Swiss cloud regions over time per http://aka.ms/move. The opt-in period started to roll-out via Message Center notifications and will be open until end of June 2020.
We at Quest would be happy to support you on your journey to the new Swiss Office 365 Data Centers with our Migration, Admin, Security and Compliance Solutions and our strong Partner Network.
According to Gartner Market Report Quest is the only provider of migration tools which check all their 40 boxes and requirements.