Before we dive into our topic and discuss a bunch of different positive and negative aspects of Microsoft Viva Sales we need to emphasize that Viva Sales is still in a preview phase and has not reached general availability. Many important feature are going to be added in the future. Birgit Hesselmeyer, Dynamics 365 Specialist and Partner Success Manager at Companial from Germany and I are comparing Viva Sales also with Dynamics 365 and Salesforce for Outlook and Microsoft Teams App.
Installation and Setup
Let's start with setup first: It easy for M365 Admins and End Users.
This YouTube Video offers an easy step-by-step guide
M365 Admins can enable Viva Sales for Outlook AND/OR Microsoft Teams for entire organization or individual users and groups.  End users add Viva Sales App to a Microsoft Teams Channel or Chat, there it acts like a Bot. Outlook Add-On / App is a messaging extension for emails.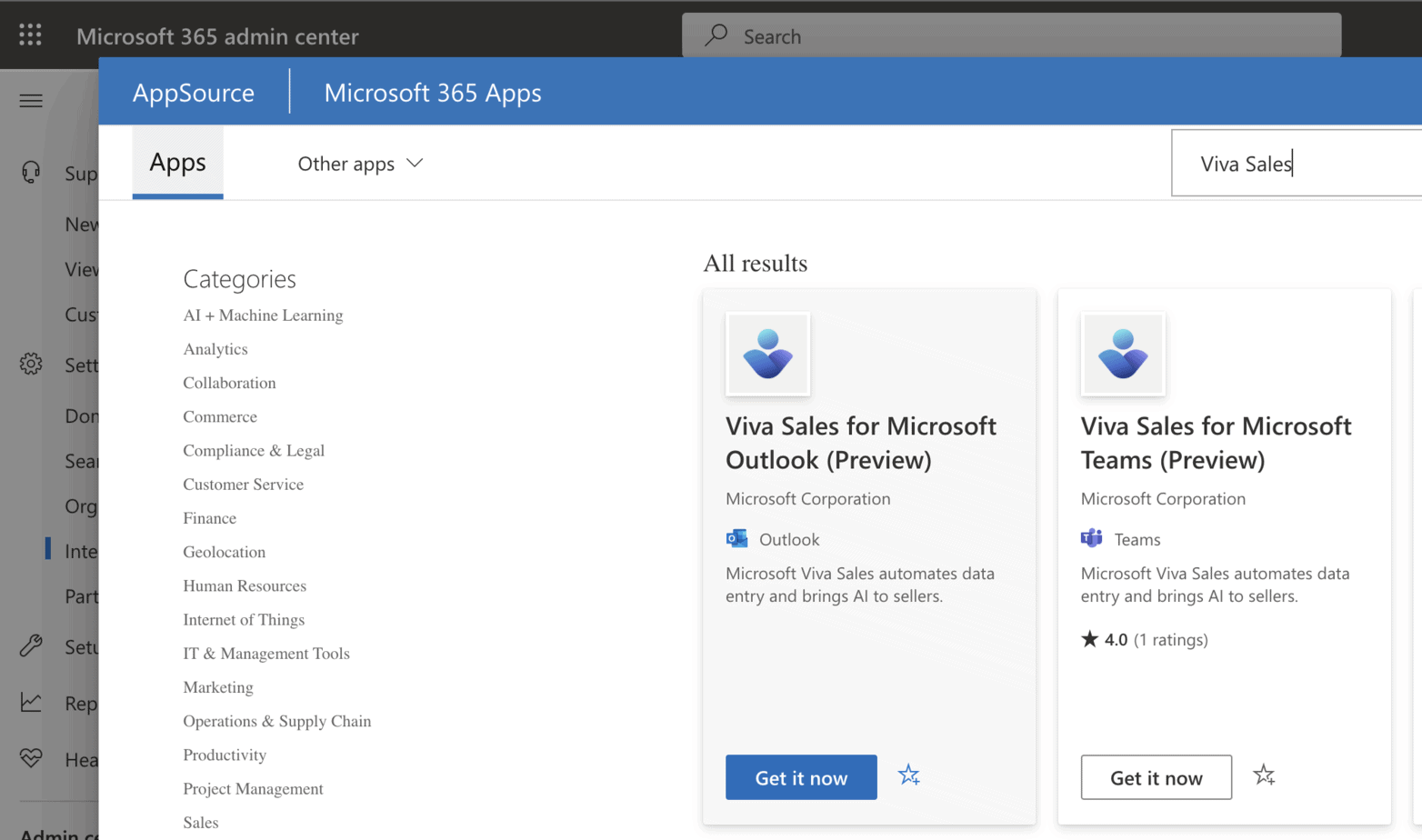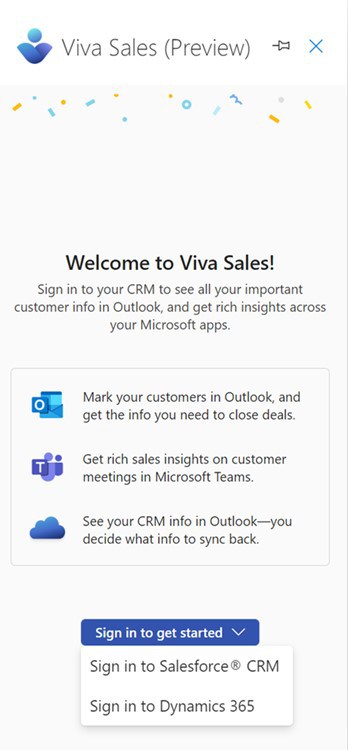 Can Viva Sales replace Dynamics 365 for Outlook and Teams now?
In Teams, Birgit doesn't I spontaneously see a big difference and added value of Viva Sales compared to the Dynamics 365 app. But of course, she will continue to monitor it. Why is it called "mark as a customer" in Viva Sales, when at the end of the day in D365 Sales it is a contact that may not yet be or become a "customer"? This makes her business heart bleed a bit, because she personally finds it very bad when people talk about "customers", but at the end of the day they mean "contacts, people, companies" without a debit-side connection.
Personal Notes in Viva Sales Outlook App
Ragnar's opinion and first impression: "Oh, nice, finally we have got another note-taking App which is not synchronized, and notes cannot be reused!"
Notes and Data are being stored in Dataverse, find more here in Microsoft's official documentation: Data handling in Viva Sales | Microsoft Docs
Additional information here: What is Microsoft Dataverse? – Power Apps | Microsoft Docs
Ragnar looked for more information about Notes in Power Platform + Dynamics 365 Admin Center and Center of Excellence Kit, could not find more
Birgit really likes the personal notes at this point but don't like that requirement to use it "mark as a customer".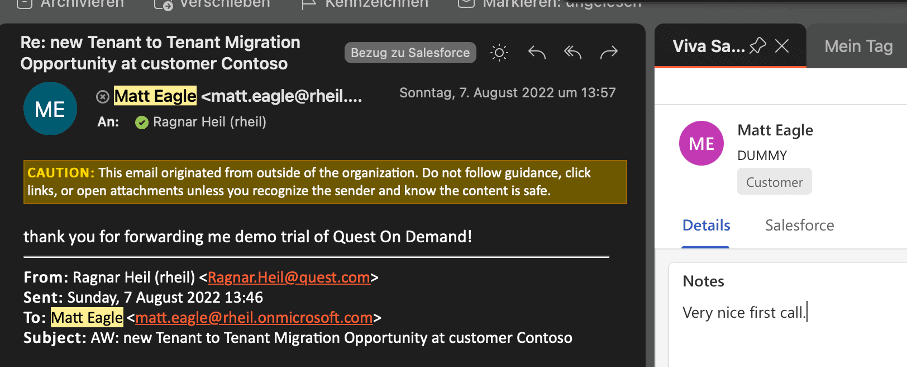 Creating new and editing existing contacts in Outlook App
We like is the creation of a contact from Outlook, as a Sales related window pops up directly. It is easier than creating contacts via the D365 App in Outlook. Opinions will probably be extremely divided on this point. But as I said, this is a very personal Birgit thing.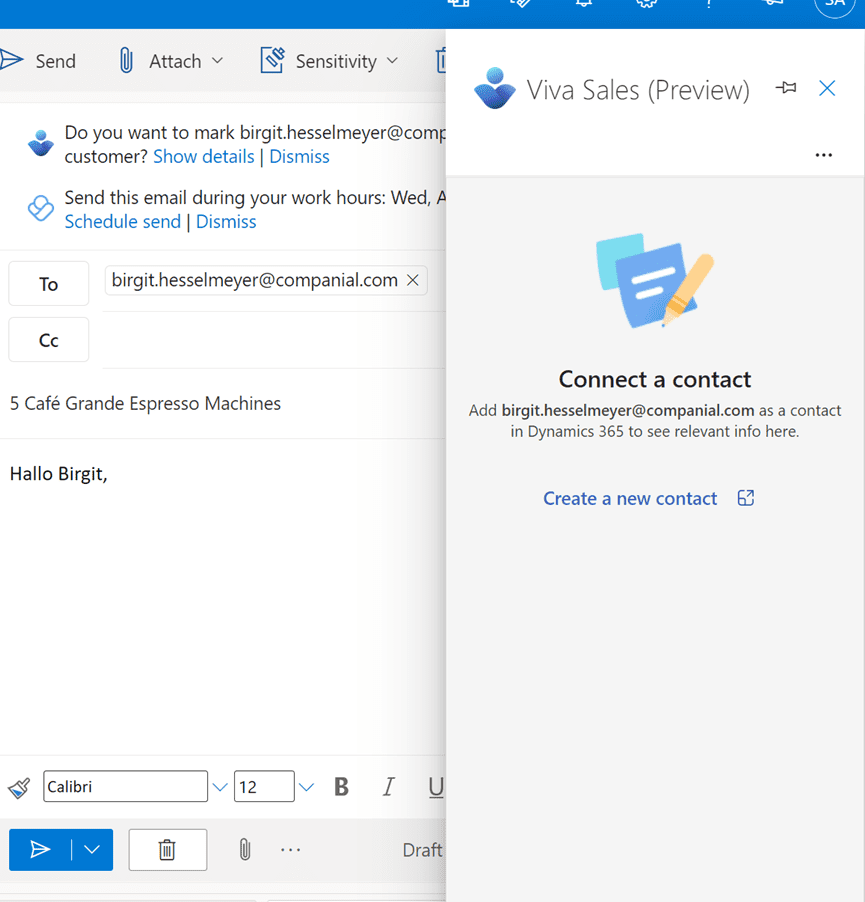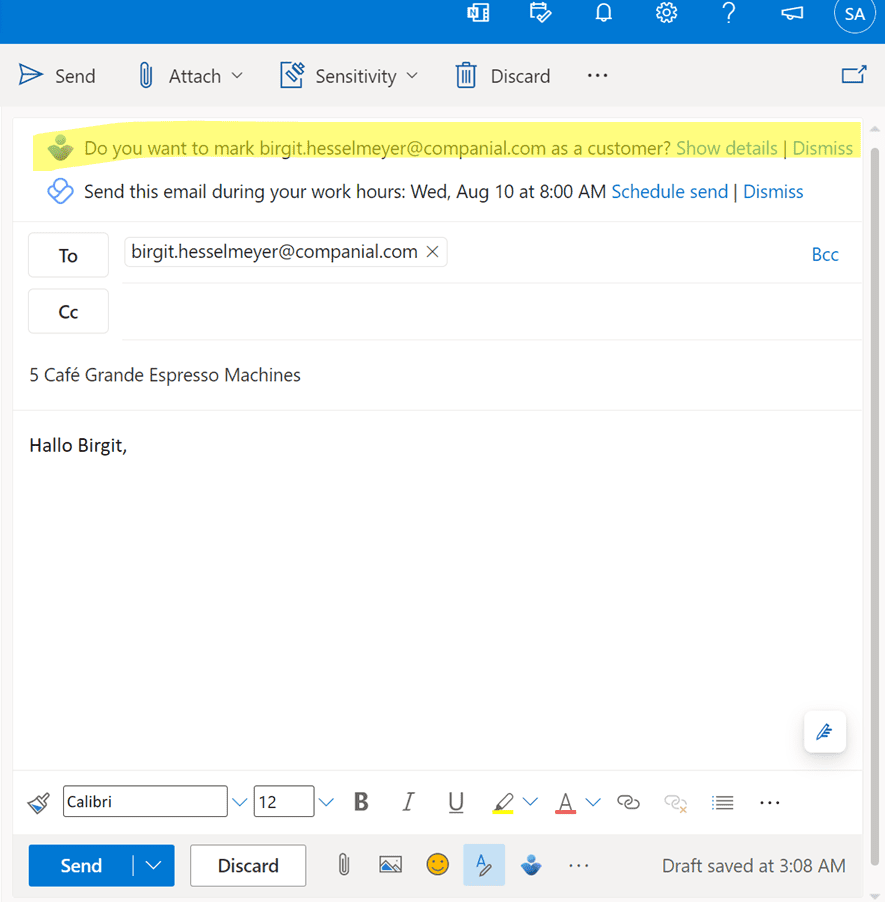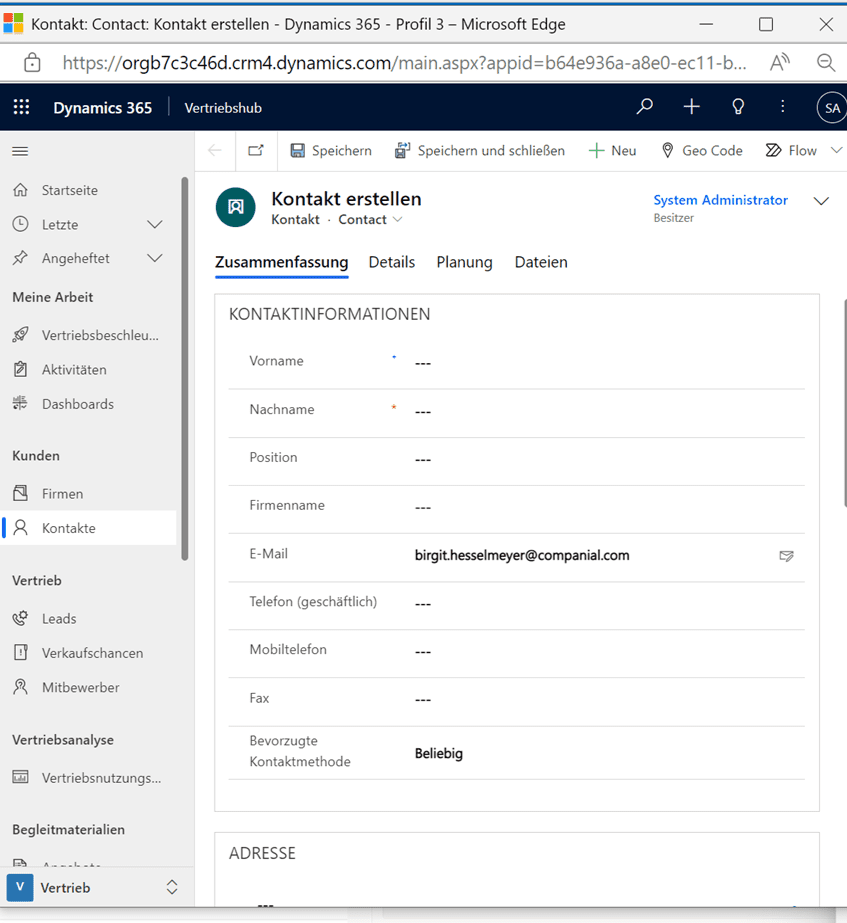 Edit Contact Information easier
At first view, Birgit likes the preview of the contact details better than the one from the Dynamics App for Outlook and also the edit option.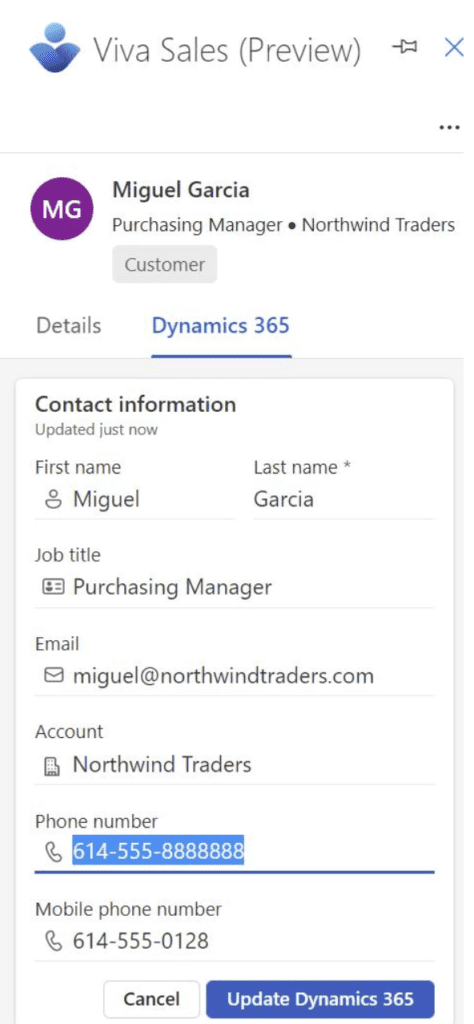 Meeting Transcriptions with Microsoft Teams
Unexpected and well working feature which provides significant extra value. Conversation intelligence is currently supported only in English.
After creating a new Teams Meeting you need to edit it again and add Microsoft Viva Sales to it. Then you can join it and after starting recording AND transcription manually, Viva Sales is going to transcribe, creating sections, count most mentioned terms and – best feature – summarize an abstract of the call. You can skip intro and small talk parts of a meeting and jump to the part of the call where the customer mentioned your competitor 3 times. Isn't it helpful? This summary can be pasted manually to your CRM meeting notes. It is obvious that an integration would add value here.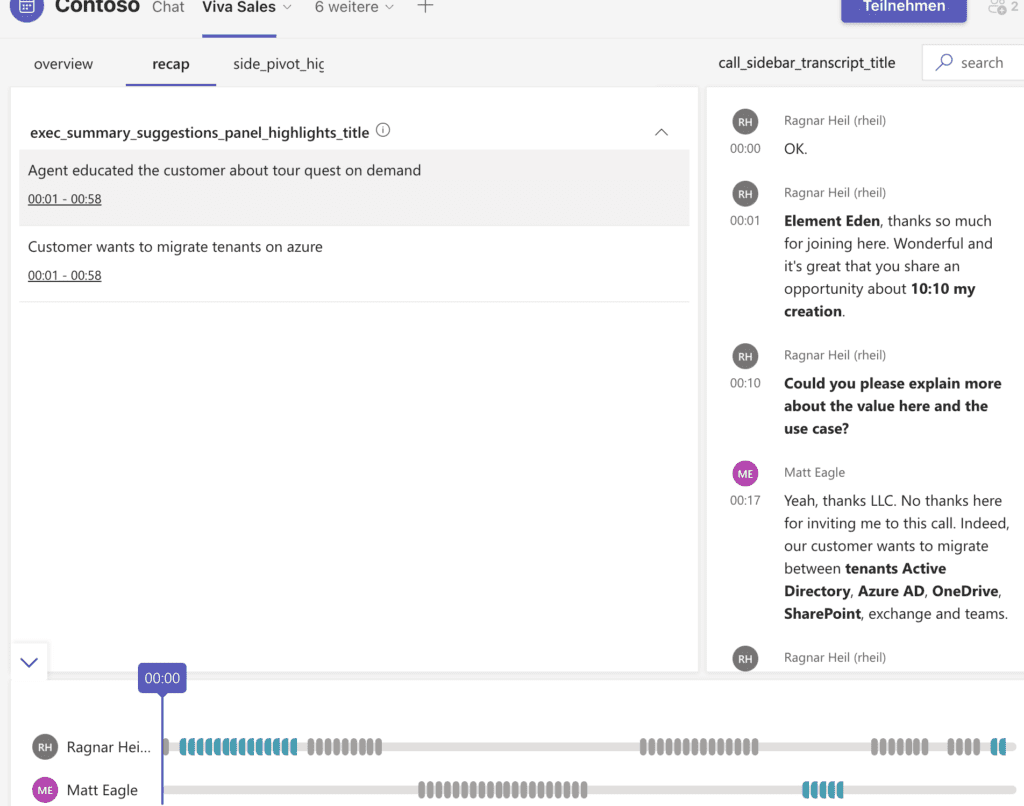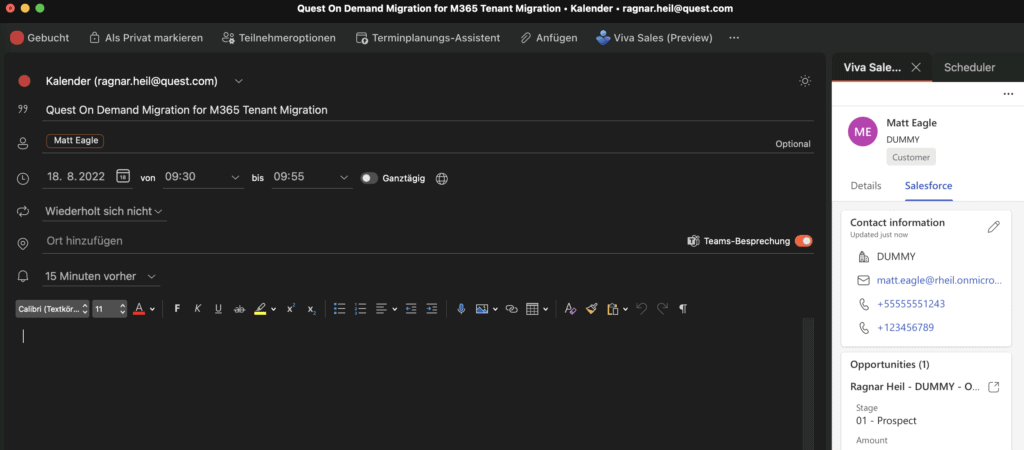 From a Dynamics 365 point of view, the question "And what about Conversation Intelligence from Sales Insights?" may of course be allowed here. We will report on this and other features next time. 
This feature adds value for you but steps above are just too many? You can automatically add Viva Sales to a new meeting by creating a meeting within Outlook – not inside of Teams Calendar
Search for Contacts and Accounts in Microsoft Teams
If you would use Viva Sales in a Teams Context without the transcription feature, you might be disappointed. Currently you can only search for contacts and accounts and a pop-up window would open Dynamics 365 or Salesforce window. No real extra value here except saving few clicks. Please share with us in the comments if this already important to you.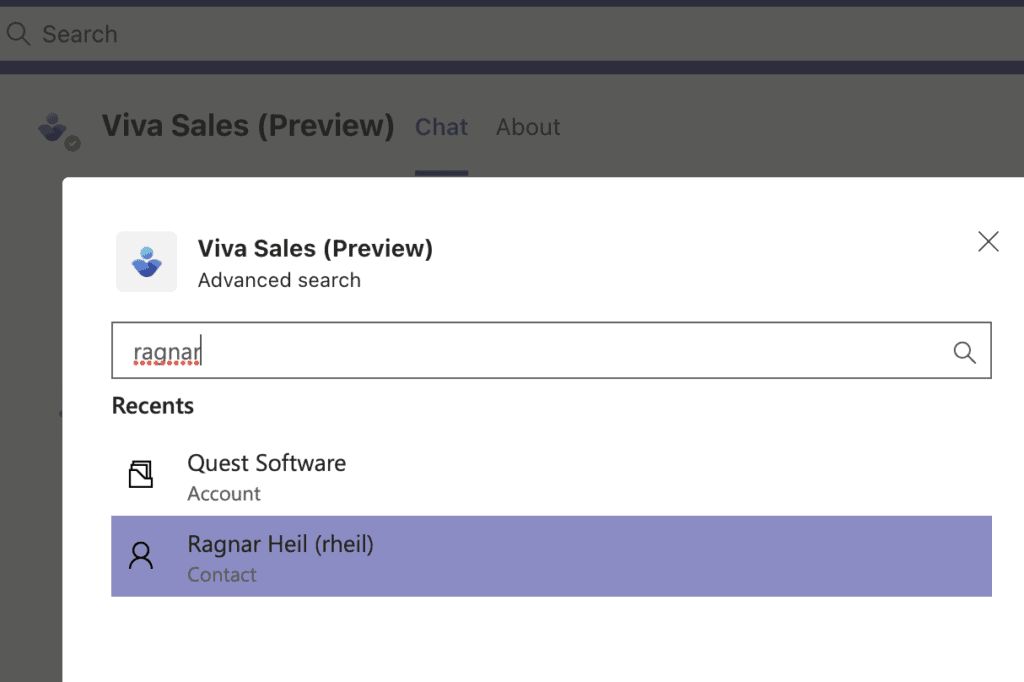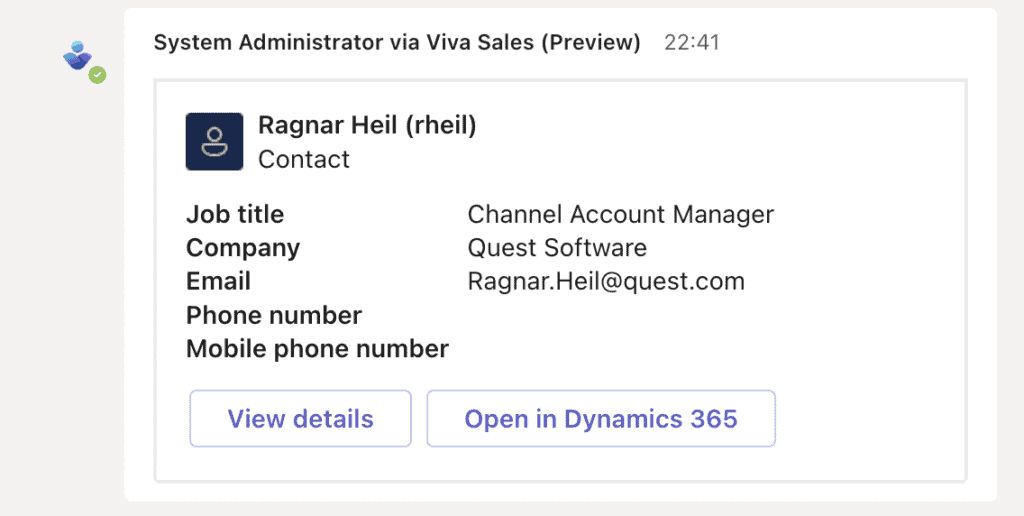 Again, for comparison, the Dynamics 365 App for Teams. It's only quite logical to ask whether both apps will really continue to exist in the future or whether Viva Sales will be expanded and replace the D365 App for Teams (and Outlook as well).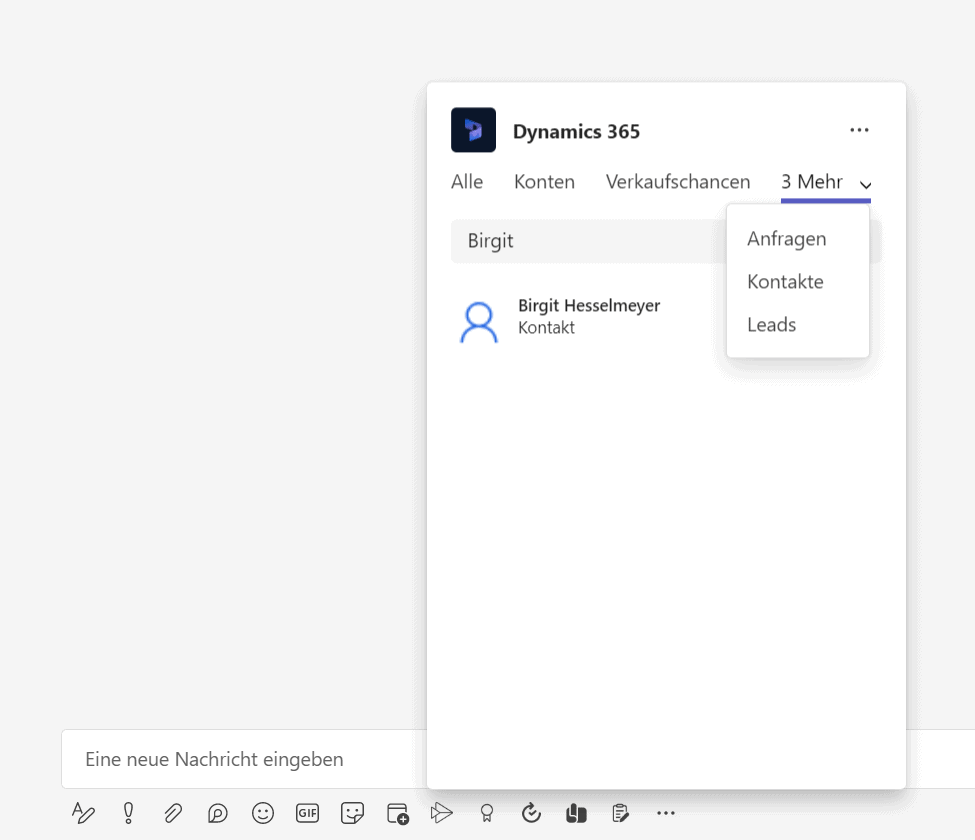 Resources: