Jabra Evolve2 Buds – Professional True wireless earbuds engineered for hybrid working
As an Evangelist and Pioneer for Hybrid Work, I am working literally every single day with True Wireless In-Ear Buds. They must be waterproof and dust-resistant, offer clear microphone quality, long battery duration, and have a reliable Bluetooth connection. Let\'s find out if brand new Jabra Evolve2 Buds can help here and make a difference when working everywhere
Microsoft Teams certified True Wireless In-Ear Buds vs Consumers Buds?
It all comes down to Jabra\'\'s professional-grade USB adapter called Jabra Link 380, you can choose between USB-C (first image) and USB-A (2nd image below) – something non-certified headphones don\'t have. You get a more stable connection and a significantly better experience on your UC platforms like Microsoft Teams, Zoom, or Google Meet. Microsoft has removed mandatory requirement of Dongles to get Teams certified. Nevertheless, they offer extra value I am describing here.
Jabra SafeTone™ & SafeTone™ G616 monitor average audio levels and include PeakStop™ to protect your ears from sudden loud audio spikes, these are important certifications for Enterprise grade headsets.
Battery Time & Charging
The case is Qi-certified, for wireless charging. If you buy the bundle and get the wireless charging pad included
These earbuds come with 5 hours of talk time and a total of 33 hours of battery including the charging case, If you are running out of battery, you can decide to use one ear bud only and keep the 2nd one charged in the case. Wthin a five-minute fast charge feature, you can use the buds for additional one hour.
Advanced voice technology
Jabra MultiSensor Voice is a new technology that automatically that should cancel out wind noise when you are on a call. It combines 4 microphones, 1 advanced Voice Pick Up (VPU) sensor in each earbud, and Jabra algorithms. In windy conditions, bone conduction technology is used to transmit your voice through vibrations in your jaw and cancel out the wind noise. — Okay, that sounds interesting what Jabra states, especially I am using bone conduction headsets from Market Leaders like Shokz (AKA Afterhokz). Currently, we don\'t have windy conditions here to test, so I am going to update this blog post later.
Bluetooth Distance Range
Evolve2 Buds support a wireless range of up to 20 meters/65 feet and Bluetooth 5.2
Waterproof durability
Designed with IP57-rated waterproof protection which I personally love when walking outdoors in the rain (maybe you need to walk the dog) or use it in my gym spa area with pools and jacuzzis – connected to Smartwatch.
Adjustable hear-through
Not only in traffic, but it is also helpful and safer to use hear-through mode to get more background information without the need of taking off the earbuds. Hear-through can be adjusted using the Jabra App.
Equalizer Settings
here are my preferred setting, let me know what you prefer. Working with EQ makes a huge difference to me.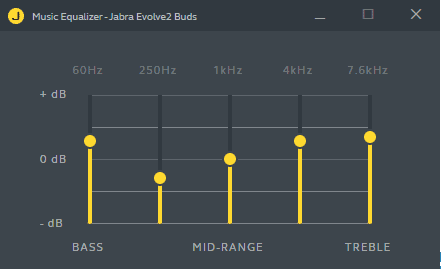 Voice Assistant
I receive so many different opinions when talking about Voice Assistants with my friends or Social Media followers. Personally, I get a lot of value, especially in winter when your smartphone is hidden and protected in a jacket. On my Android, I can use Alexa or Google Assistant. Won\'t use Samsung Bixby.
Multi-Point Connectivity
Simultaneously connecting to two devices at the same time, I am usually switching between Laptop or Smartphone. Up to 8 devices can be kept in the pairing list.
Call Controls
just look into the configuration within Jabra Mobile Sound+ App or Jabra Direct App for Windows and MacOS: Amount of call controls are many and I am not aware of missing features here.
with Microsoft Teams certification I can also mute/unmute in Teams, I can bring the Teams App to the foreground or raise my hand.
In-Ear Detection offers more automated controls over your calls like auto-accept calls, auto-mute calls or auto-pause music which is super helpful. Won\'t like to miss it anymore, same for one-touch resume of my Spotify songs or podcasts.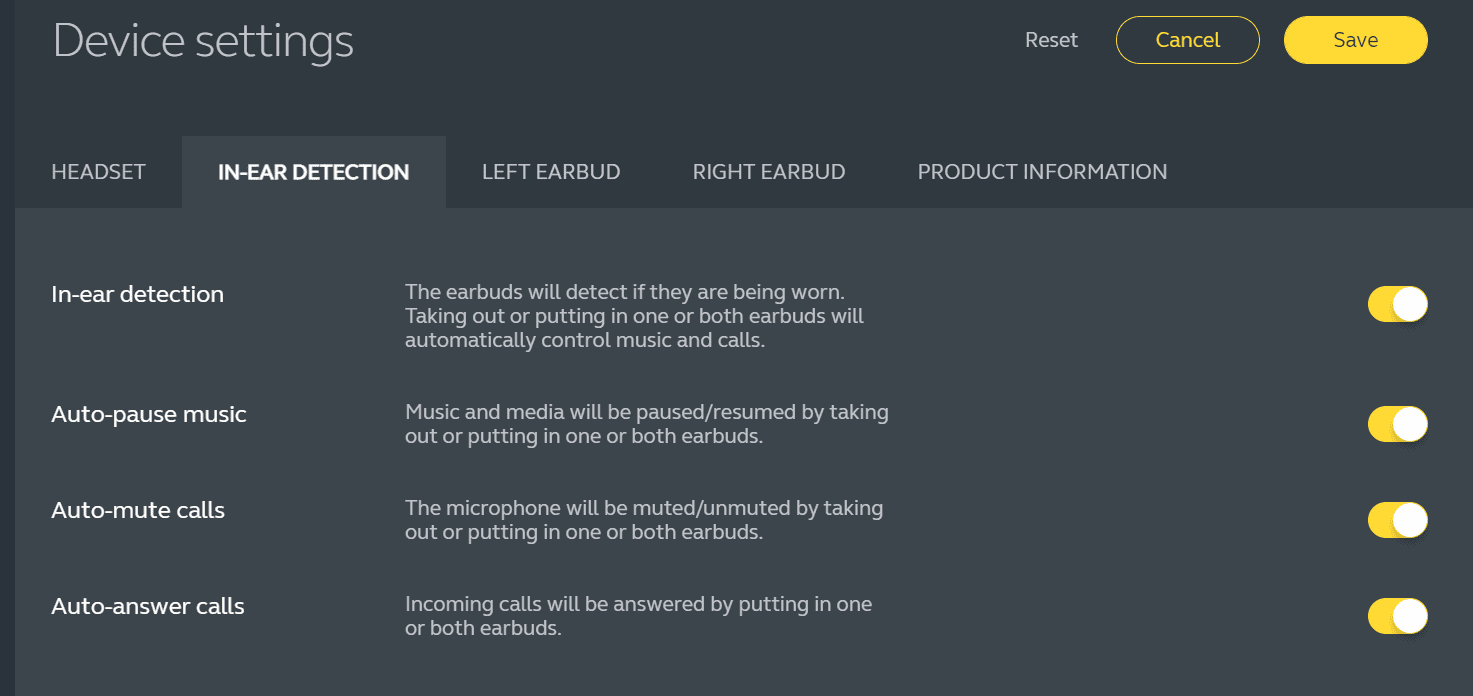 Configure personalized ANC performance
Use the MyFit feature in the Jabra Sound+ app to find your optimal seal, for maximum ANC performance. 3 pairs of round silicon EarGels help to find the best seal. You can clearly see that the headset industry is somewhere between using AI to deliver the best AI performance or manual configuration where ANC fits my ears after running hear tests. You won\'t find this premium feature in cheaper True Wireless In-Ear Buds.
I have tested them in my noisy gym where music is playing and people are talking. I could still hear that there is music in the room but finally, focus on the Netflix movie I was watching on the treadmill. Good experience with ANC also in my flight to Copenhagen #ESPC22 but not groundbreaking or better than with Elite 7 Pro. Same for hybrid work downtown where trams are arriving and leaving, the ANC is impressive but cannot be compared to an ANC experience of market-leading over-ear headphones. But let\'s bring it to the point: would I wear them while shopping downtown or in the gym? No way? My usage scenarios and planes and train rides for ANC over-ears headsets. 
Microphone Quality / my voice samples
Jabra Evolve2 Buds in silent environment
Jabra Evolve2 Buds and Jabra Elite 7 Pro in a noisy environment (train station, 70 db)
Coffee Grinder Test Jabra Evolve 2 Buds Vs Jabra Elite 7 Pro
Short Video Review
My verdict
I have tested dozens of True Wireless In-Ear Buds over the last few years and all of them have their pros and cons. What I can highlight for Jabra Evolve2 Buds is their ultra-compact design. They are very comfortable to use, also when doing sports, and connection to my Windows 11 PC / Mac book, Smartphone and Tablets is easy and flawless. A new USB Dongle helps to increase reliability, I had many situations over the last years when my PC did not want to pair, and I had to take a wired headset. I am going to use USB dongle whenever I can. Call quality is impressive and clear but not on the same level as my preferred headsets on my desk like Jabra Engage 55. Evolve2 Buds have found their way into my Jeans pocket, but won\'t replace a speakerphone. Headset or professional microphone on my desk. They are designed for Hybrid Work and do a perfect job but are not a professional headset for every single usage scenario. E.g. for my video live streams, I use Shure SM7B microphone or Logitech Blue Sona together with one single Jabra Evolve2 Bud as my loudspeaker. Do Evolve2 Buds filter out strong background noises and offer clearer calls? This promise has not fulfilled, you need to add AI based noise suppression from Microsoft Teams or 3rd party tools like Krisp – or use different headsets like Jabra Evolve2 75. Last but not least I don\'t want to forget how well Jabra Evolve2 Buds are designed for enjoying music. Especially when using EQ I really enjoy the well-balanced mix of bass (yes, Jabra finally offer a better bass, just listen to \"The Power of Love by Dellé\"), mids and crystal-clear trebles. Sounds like Jabra Evolve2 Buds a great all-rounder for Hybrid Work, doesn\'t it?