How to update Microsoft Teams Rooms manually
When I have received a Lenovo ThinkSmart Hub (2nd Generation) last week, one of my first actions after adding it to Teams Admin Center and to a Microsoft Teams Rooms was – you might know my answer already: yes, updating to the latest version of Microsoft Teams Rooms.
My expectation was to get Lenovo ThinkSmart Hub updated in Teams Admin Center (TAC) but I found out quickly that there are manual steps to follow.
A newer approach is to download this MTR PowerShell script and run it. Sounds easy, doesn't it?
https://docs.microsoft.com/en-us/microsoftteams/rooms/manual-update
I have received this error message:
"Prerequisite: The Skype user must be logged in for this script to work correctly. Please reboot the system, and run this script without signing the Skype user out."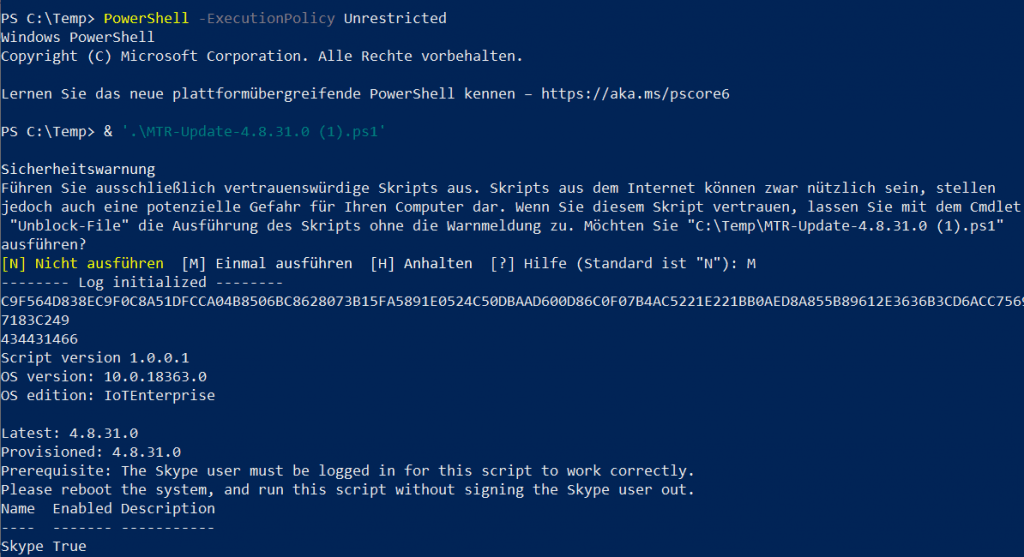 At this point I didn't know how to run this script as a different user, Skype for Business (SfB) – I was running it elevated as an Admin
So I had a short and very conversation with Graham Walsh in a Microsoft Teams Team and found an older approach in Skype Room System Deployment Kit" his excellent Blog to use Skype Rooms Systems Deployment Kit. It worked immediately and I could upgrade to 4.8.31.0
In the meantime Graham has found a solution (which I would never imagined) to get the first approach running:
Plug a keyboard into your MTR (no touch screen), login to Skype Account and press Windows Key 5 times in a row. Then log in as Admin and run the MTR Update script again which caused the Skype PowerShell error.
Both users – Admin and Skype – need to have access:

Now it works – I just did the screenshot after my first attempt!
Kudos again to Graham for sharing – don't forget to follow his Blog – because sharing is caring!