Airtame Hub wants to make it simple to connect up to four devices to one screen like a monitor or projector over Wi-Fi, wireless casting. This Hub connects your video devices and speakerphones wireless to meeting room screens and simplifies joining experiences. Simply use the Airtame app to select the device you want to connect, choose the display resolution, enter the password, and start sharing. Airtame Hub can be used for hybrid Microsoft Teams and Zoom Meeting as well as for Digital Signage Use Cases like screens in the lobby entrance or reception to welcome guests, inform conference attendees or notify employees about internal news.
When the person who started the meeting disconnects (we all left meetings earlier), the meeting continues with people left in the room. This way, everyone stays in sync without having to worry about switching screens or losing track of what others are saying because of this interruption.
Airtame emphasizes that the Hub gives you total control over your conference calls. It connects to your company\'s network and infrastructure and removes the load from your laptop. Compare it with a classic phone system in a meeting room.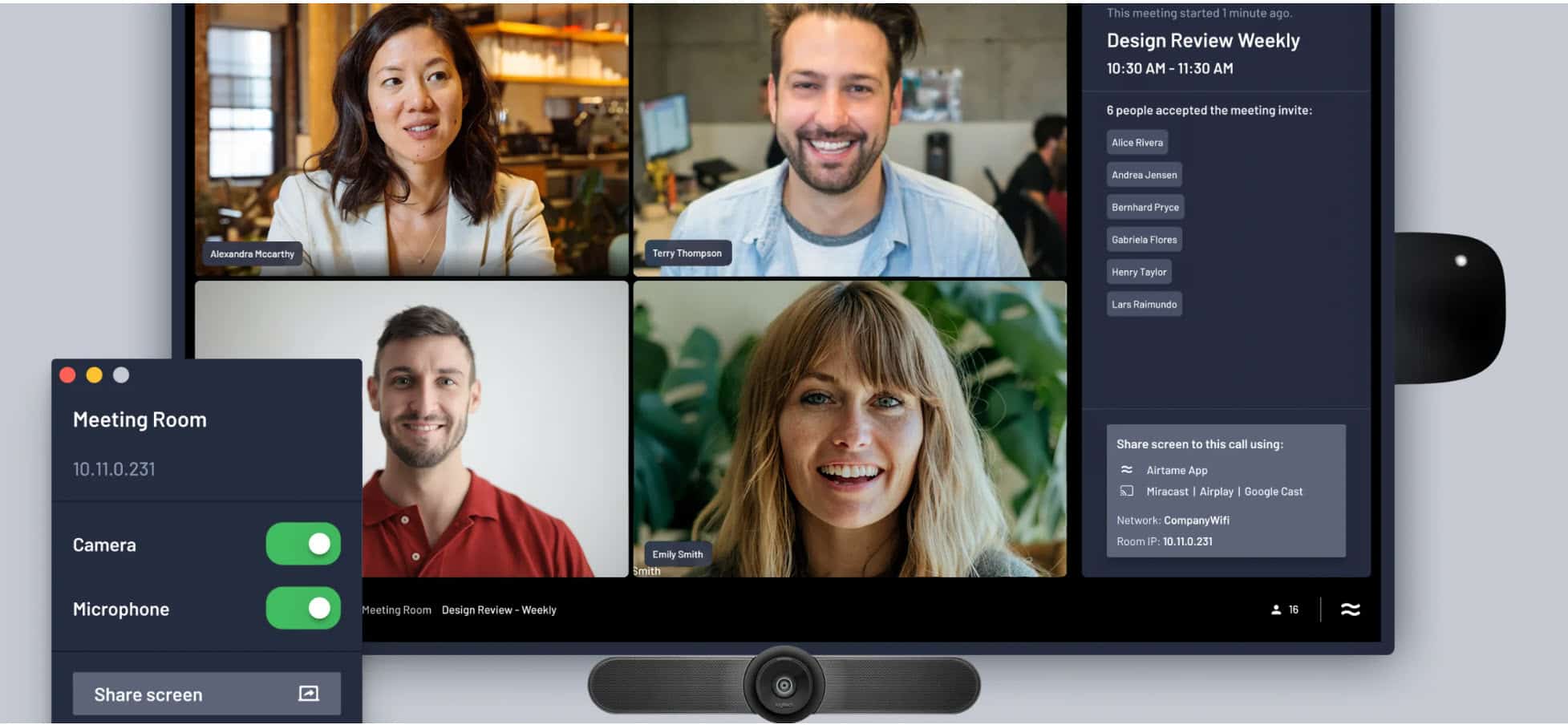 Connect multiple Airtame devices
The Airtime Hub works with either Windows 10 and 11 PCs or Mac computers running macOS High Sierra or later. It connects up to four additional Airtime devices, in my usage scenarios I am using it standalone with my laptop to start the call – and: although my laptop kicked off the meeting, it remains free for me to continue my work without streaming my desktop to everyone like in Miracast and Apple TV scenarios Why should I connect the Hub to more Airtame devices? For example, you could set one device to answer incoming calls while another rings people outbound. Or you might want to assign different participants to different rooms.
Supported Video Devices
I have tested Airtame Hub with Logitech Brio Webcam, EPOS Expand 40t Speakerphone, Jabra Panacast 50, Poly Studio USB and Poly Studio R30. Find list of supported devices here. As you can see, you can choose depending on your assets and budget if you want to use a webcam plus speakerphone or go with a Video Collaboration All-in-One Bar.
App Gallery
App Gallery is the core experience of an Airtime device. Here you can set up playlists (default or scheduled) that should cast, stream or project to your screens or projector. I have tried all of them except Rise Vision and this flexibility to choose between Digital Signage scenarios where you show slides, internal/external websites, YouTube Videos, images, or use Airtame for Meetings with Microsoft Zoom or Teams is impressive and unique.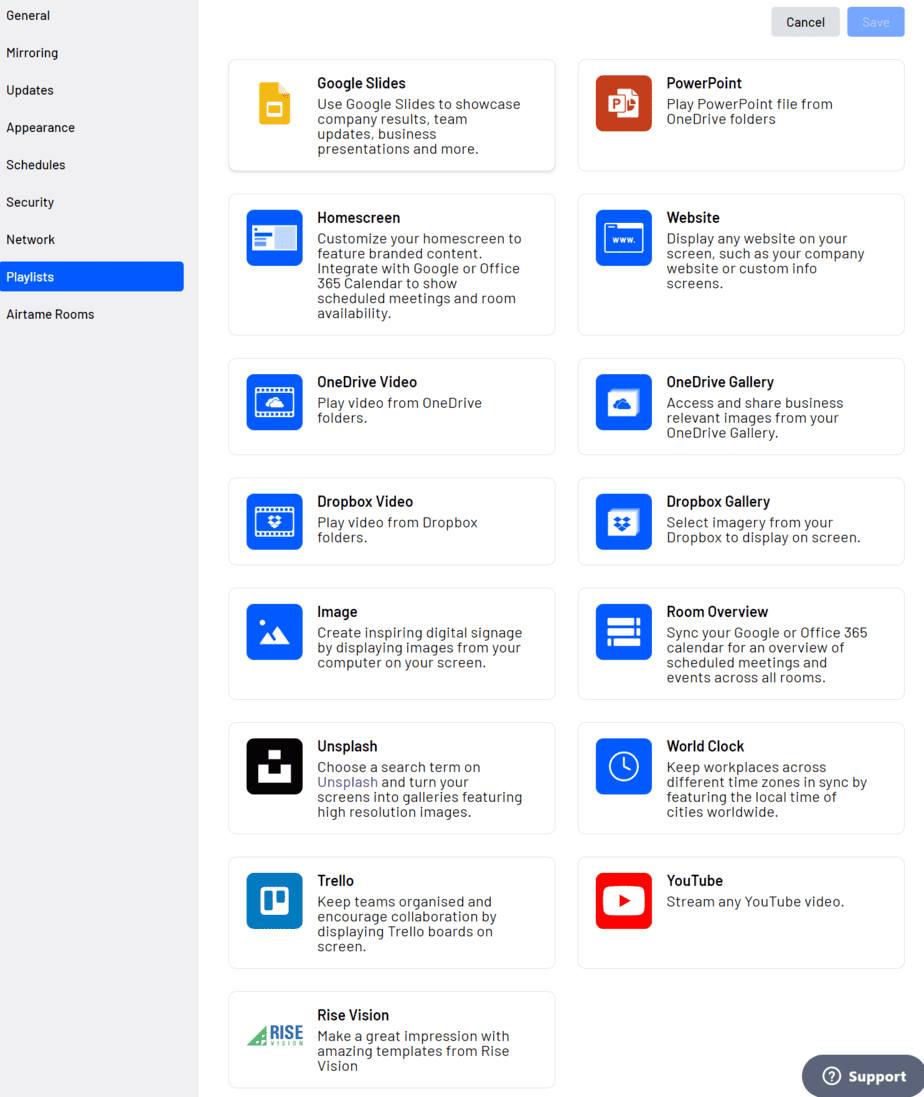 Appearance / Look & Feel
Airtame wants to provide a professional experience for people using it and looking at screens like your prospects, customers, partners, and (future) employees. You can customize the background image, provide your website URL, and change fonts and dynamic text as well as resolution.
Connectivity
For best performance, 10-15 MBPS per Airtame Hub device is recommended, this is the maximum bandwidth needed when running a call with shared content. Make sure not to use Client Isolation or NAT mode in your guest Wi-Fi and enable \"Multicast\" in your Airtame App. Multicast is used to advertise all Airtame devices in the network and make them visible. Otherwise, you need to type IP addresses of each device. If an Airtime device should only be used for digital signage (like in your company lobby) without being \"hijacked\" for Meetings, discovery can be turned off. Time can be synchronized with NTP server (internally or externally). Airtame cloud application needs a correct time to work properly. Airtame devices are not only running in one single network, VLAN can be created for a setup in a DMZ.
HDMI Out:2
USB:2 x Type A, 1 x Type C
Network:10/100/1000 Ethernet
Wi-Fi: 802.11a/b/g/n/ac, RSDB (5 GHz recommended)
Bluetooth:5.2
optional: PoE Adapter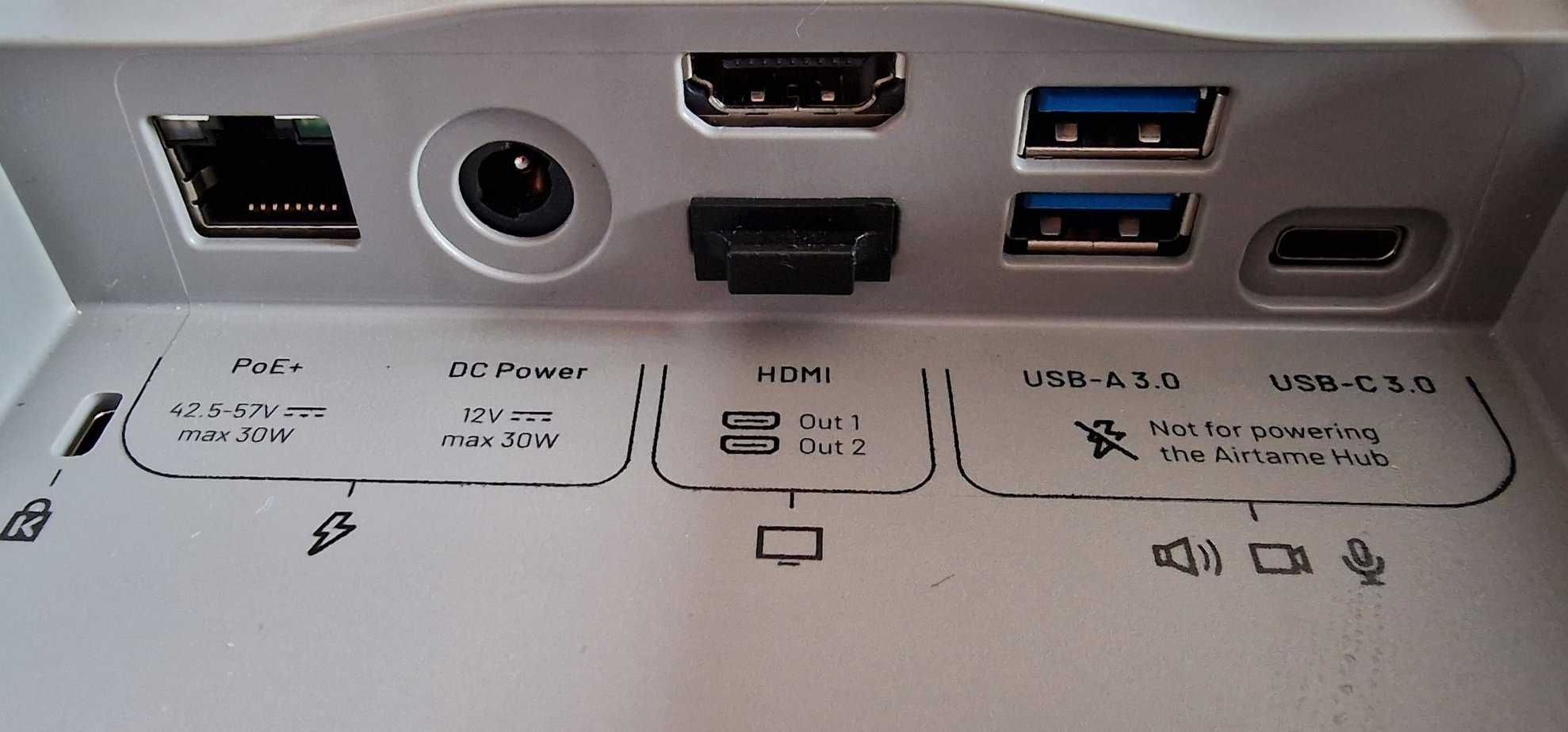 Device Dimensions
Height:56.4 mm (2.22 in)
Width:159.5 mm (6.28 in)
Depth:227.5 mm (8.96 in)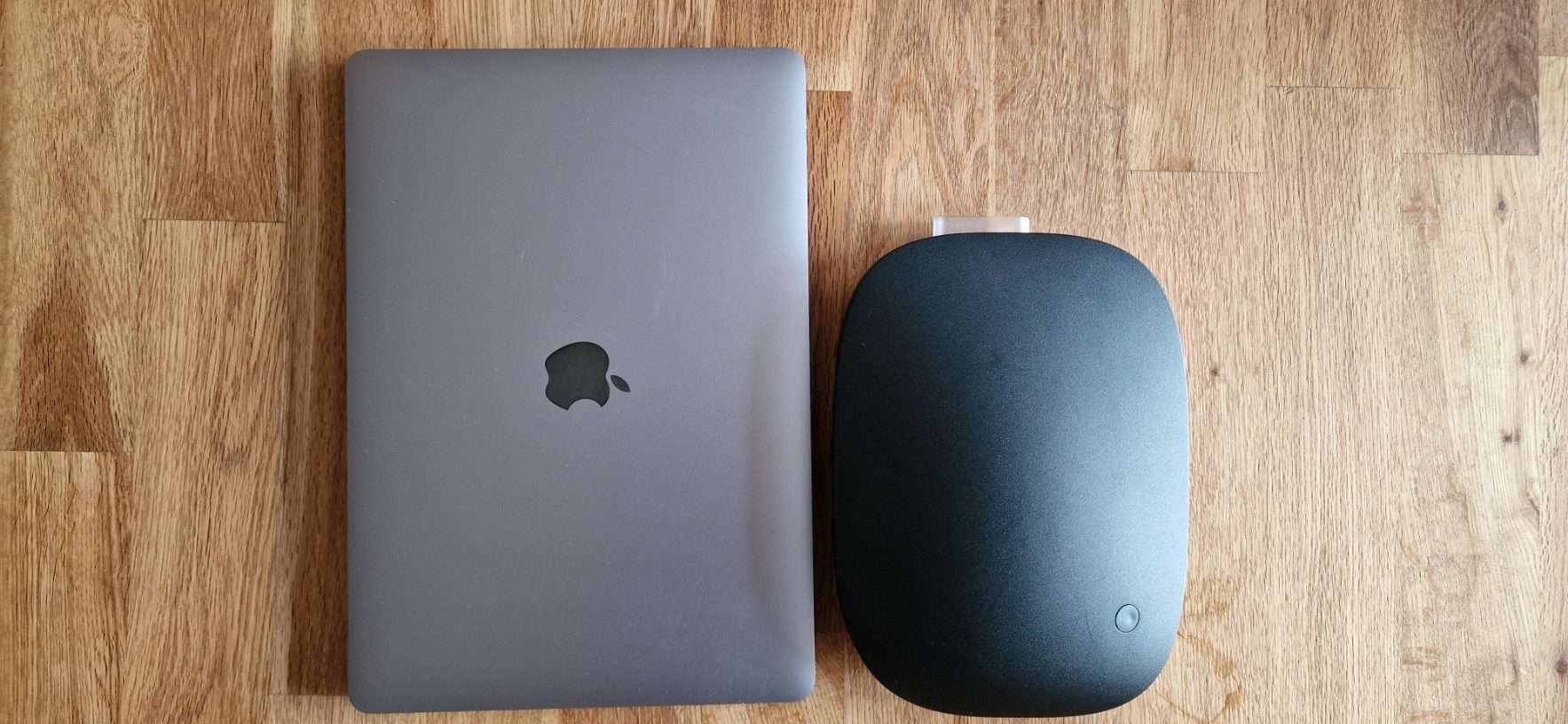 Saving Energy
I appreciate the settings to power off the screens and save precious energy.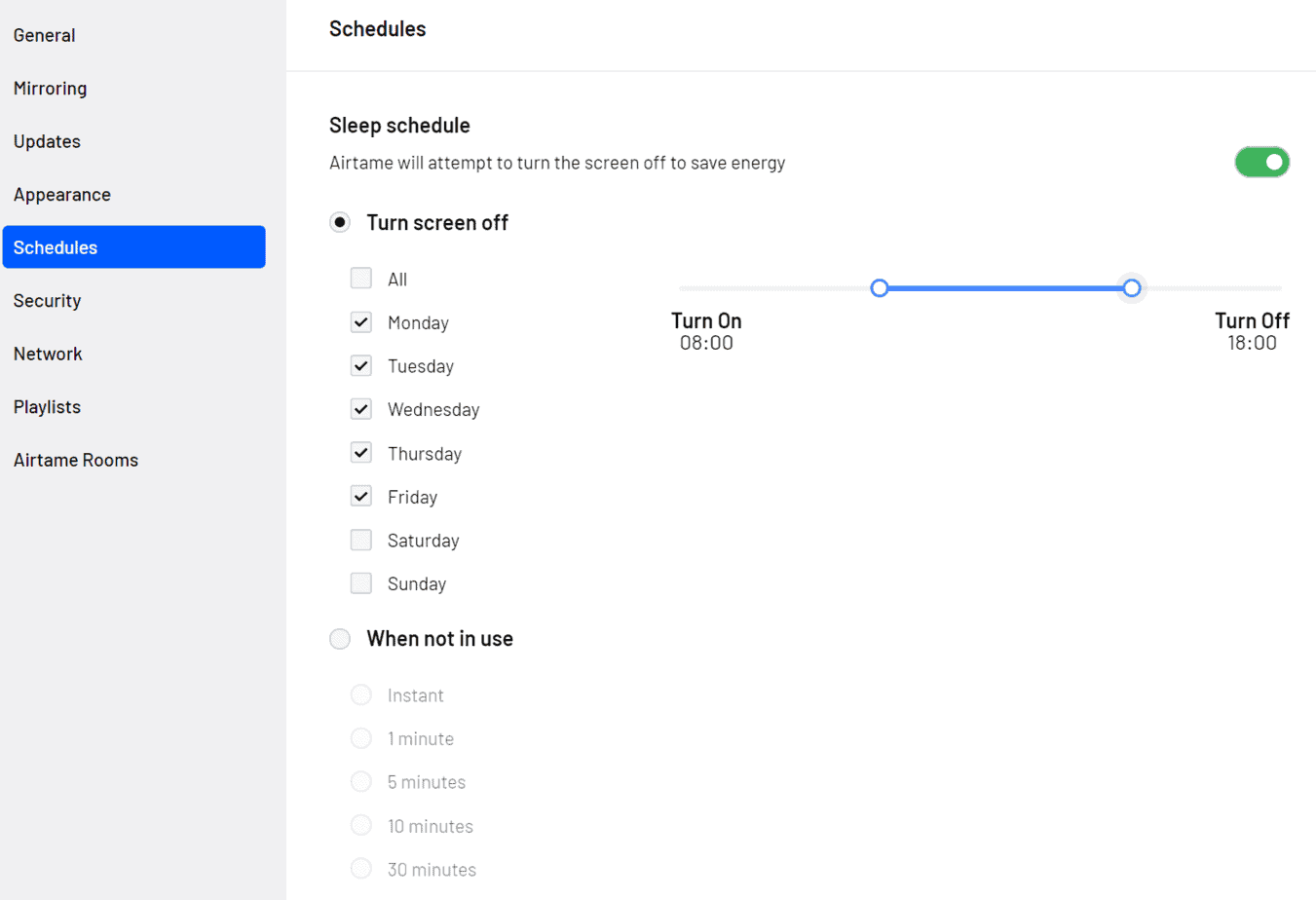 Pricing
you can start with free lite license which offers these features:
Firmware updates
Unlimited users
Unlimited groups
Unlimited devices
Global device management
Moderator mode
Branded image and custom background
Change screen orientation
Set public website URL for signage
Airtame Plus Plan contains additionally these features:
Content scheduling for signage
Looped content with playlists for signage
Third-party app integrations for signage
Remote monitoring with up-to-date screen preview
Welcome screen with meeting room scheduling
Meeting room overview
Energy saver with Sleep schedule
On-demand training
24-hour email, chat support
An additional Airtame Rooms Plan is needed to join Microsoft Teams and Zoom Meetings.
What is the difference between an Apple TV 4K, Google Cast, Miracast and Airtame?
Airtame and Apple TV both offer wireless screen sharing, although the latter is more optimized for streaming media content (watching Netflix, Sky, Disney+, etc.). Both solutions offer a physical product that connects to a screen via HDMI cable (or VGA with adapter). Airtame also supports Google Cast and Miracast. Resolution is limited to 1080p with 60 fp/s for Airtame. Many Digital Signages and Meeting Room Dialing-in Scenarios are not possible with Apple TV, Google Cast and Miracast. Make sure to compare Airtame Apps with these other systems which seem to be competing but Airtame can integrate them.
Troubleshooting
I opened a Support Ticket once because I had issues with meeting connections and friendly Support helped me within few hours, and recommended changing my release ring back from nightly releases to stable. Airtame cannot be managed within Microsoft Teams Admin Center, you can update it in its own tool airtame.cloud
Limitations
Airtame roadmap is clear and already aware of obvious limitations like:
Connecting to Airtame and starting meetings/switching slides in a Browser, no need to install Airtame App
Support for Raise Hand functionality on Microsoft Teams calls
Screen sharing locally to a call without joining the call
Viewing and interacting in Microsoft Teams Chat
Dual-screen video conferencing
Maintenance alert notifications by email (or Microsoft Teams Chat (Bot))
My verdict
Airtame Hub with its capabilities to connect only your Laptop or MacBook as well as more Airtame devices solves two main challenges: You can stream wireless a meeting to a screen without the need to show your machine for the duration of your meeting. If Digital Signage use cases are more relevant for your company, the story is the same: no need to change slides on a USB stick attached to your large screen in the lobby, meeting room doors, floors, or cantina: just connect Airtame with your OneDrive, Google Drive, Dropbox or only World Clock, YouTube Video, Website, Intranet News, Google or PowerPoint Slide. Deliver more dynamic and interesting content to these large screens which highlight important news and stories for your customers, partners, and employees.
It reduces the workload of your laptop. So I am going to use it differently than my Samsung S22 Smartphone / Galaxy S8 Tablet wireless DEX setups or Miracast streams. Yes, I could also stream my desktop or a browser window / dedicated App with Airtame – but I don\'t have to.
The latest feature additions are all about Conferences and Meetings: Airtame started with Microsoft Teams and now offering Zoom Integration since October 31st. As mentioned before, please consider the limitations like missing chat interactions, raising hands, or dual-screen support. It doesn\'t matter if you are Zoom or Microsoft Teams, you won\'t have the same rich experience as in your Desktop or Mobile Client – or Zoom Rooms / Microsoft Teams Rooms (MTR). Yes, Teams Rooms have now a different and much higher price tag, Pro licenses are now available for €33.70 EUR per room. That also means that Airtame Rooms which have a price tag of 10 EUR / room are now competing with a Microsoft Teams Room Standard license for 0 EUR – if you don\'t care about Digital Signage and Airtame Apps which are not meeting related.
Get your Airtame Hub starter kit for a limited time now until Dec 31st, 2022: 999 US$ here if you care about easier and faster access to your Microsoft Teams and Zoom Meetings, share screen/window AND/OR improve your Digital Signage in your customer-facing areas.